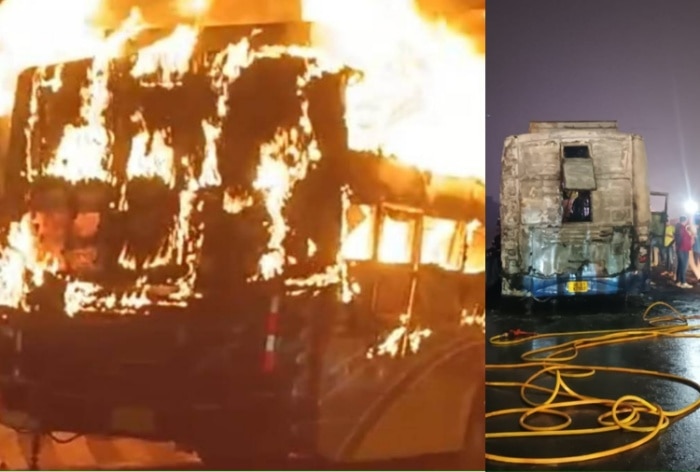 A Volvo sleeper bus caught fire on the Delhi-Gurugram expressway on Wednesday night resulting in deaths of two passengers and serious injuries to two others.
Gurugram: At least two people were charred to death while a dozen others sustained serious burn injuries after a moving sleeper bus caught fire on the Delhi-Gurugram Expressway on Wednesday night. According to the police the passenger bus, a Volvo sleeper, was completely gutted in the fire, however, the cause of the fire was not known immediately and is being investigated.
A senior police official said two people died in the fire while 12 others sustained grievous burn injuries.
Five of the injured have been admitted to Medanta Hospital and seven to Civil Hospital, the official said.
Visuals of the incident doing the rounds on social media platforms showed the bus engulfed in a massive inferno.
#BreakingNews A massive #fire 🔥🔥 broke out in a sleeper #BUS coming from #Jaipur, #Rajasthan to #Delhi. Two people have burnt to death in this incident. At the same time, 10-12 people have got burnt. The incident took place on the Signature Tower flyover in #Gurugram…. The… pic.twitter.com/pd0S4WKPpx

— Rakshitanagar 🇮🇳 (@rakshitanagar28) November 8, 2023
#WATCH | Haryana | A bus caught fire on the Delhi-Jaipur expressway in Gurugram this evening. Details awaited.

(Video Source: Video confirmed by locals) pic.twitter.com/HFyxvhbUmZ

— ANI (@ANI) November 8, 2023
Fire Department Deputy Director Gulshan Kalra said the incident took place around 8:30 pm near the Jharsa flyover on the main carriageway from Delhi to Jaipur.
"Three fire tenders were rushed to the spot after we received information that a sleeper bus with registration number AR 01 K 7707 had caught fire on the carriageway," Kalra said.
By the time the fire was brought under control, two passengers were charred to death. Some other passengers sustained burn injuries, he said.
Civil Hospital's Dr Manav confirmed seven injured are undergoing treatment at the facility.
"All injured have suffered 30 to 50 per cent burns but are stable," he said.
After receiving information about the incident, Deputy Commissioner Nishant Kumar Yadav and Gurugram Police Commissioner Vikas Kumar Arora also reached the spot.
(With PTI inputs)