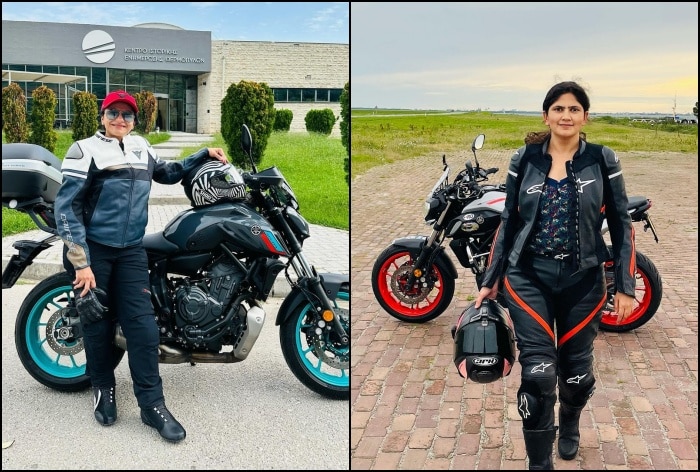 Indian women continuously break stereotypes with all their pride. Today, let us loo at the some adventurous and inspiring journeys of Indian women bike riders.
Vroom, vroom and off we go! That's a biker's spirit when they embark on any adventure. when we say biker, it is usually an image of a man with gloves and a helmet on a really cool bike. It sounds tough and feels tough too. When we see a woman in a similar fashion, we will turn our heads and look twice at her riding a bike. Why though? Because bike is always associate as a male-dominated realm and maybe bikes are a little too heavy to handle? And this, right here is patriarchy speaking. In sain and unsaid norms it has always been the case. However, we are in 2023 and Indian women already rejected the stereotype way back. There are several Indian women who have a passion for riding a bike and 'over-ride' every social schema one mile at a time!
Movies, and cinema play a vital role in creating certain opinions in our heads. Dhak Dhak starring Dia Mirza, Fatima Sana Sheikh, Ratna Pathak Shah, and Sanjana Sanghi just been released in theatres. The story revolves around the biking expedition of different from hailing from different backgrounds with their own sets of struggles and highs in life. The movie highlights the journey of different Indian women and their tryst with bikes. While that is on reel, here are some real-life stories that narrate the inspiring stories of how Indian women shattered stereotypes and got on the road.
5 INDIAN WOMEN BIKERS YOU MUST KNOW
Dr. Neharika Yadav
A dentist by profession, Neharika is a superbike racer hailing from Gurgaon. Reportedly, she is the only woman to have raced in the fastest men in the grid in the 1000cc category at the JK Tyre Superbike Championships every year.
Piya Bahadur
Like her name, Bahadur is courageous and has the fortitude to pursue her dreams relentlessly. Author of Road to the Mekong, Piya embarked on an all-women road trip to six countries (17,000 kms) in 56 days. Along with three other women, she started as local bike rider based in Hyderabad. "The day you stop making excuses for not wanting to go the distance is the most important day of your life," write Bahadur.
Alisha Abdullah
Daughter of seven-time national bike racing champion, RA Abdullah, Alisha is known to be the first female national racing champion of India. The 33-year-old owns a team, and train them regularly.
Dr. Sarika Mehta
Born in a conservative family in Surat, Sarika is the founder of 'Biking Queen'. While she hilas from a family where women education was the least important things, she and her parents shattered the stereotypes and she went on to study and completed her Ph.D in Behavioral Science.
Repordtedly, Sarika steered into the world of biking after a male friend's remark on women riding bikes. From then on, with the help of her husband, she learned biking and soon began changing the way people looked at women bikers. In 2015, she started the women's biking club in Surat called the 'Biking Queens'.
Roshni Sharma
Roshni Sharma gained fame when she decided to ride solo from Kanyakumari to Kashmir at the age of 26 covering 11 states, difficult terrains and tough mountain ranges. With her journey, Roshni has continued to prove that women can achieve anything, if they set their mind to it. As per reports, Roshni developed a love for bikes at an early age. However, she did not like the idea of riding through the usual travel and instead wanted to explore places during her long bike rides.