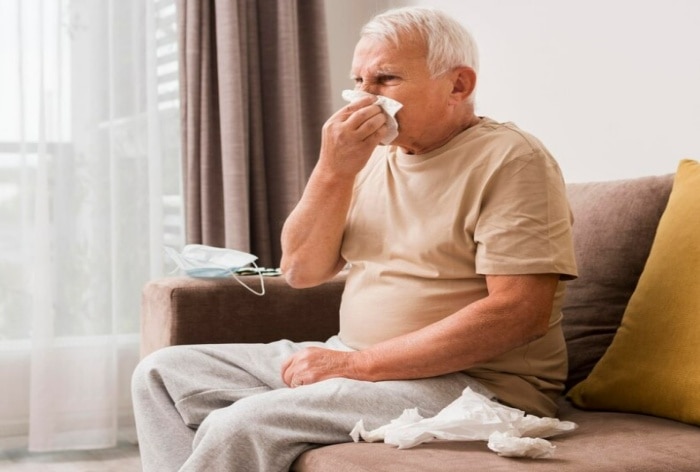 Elderly people are also more at risk of facing respiratory and heart issues amid rising air pollution in Delhi-NCR. Here are a few tips to prevent it.
Delhi air pollution has got people coughing, sneezing, and dealing with itchy photos here and there. Masks are out, and no, it is not for some COVID-like infection but because of the toxic air in the capital. Pollution levels in Delhi marginally dipped Tuesday morning and were recorded in the 'very poor' category after five consecutive days of severe air quality. The national capital's Air Quality Index (AQI) stood at 394, a marginal improvement from 421 recorded at 4 pm on Monday.
Children, pregnant women, and elderly people are most at risk of developing lung and respiratory issues. Here is how people over the age of 60 should take care of their health during rising pollution in the city. As pollution levels continue to rise in many parts of the world, the health of older individuals, particularly their heart and lungs, is at greater risk. Older people are more vulnerable to the adverse effects of air pollution due to their decreased respiratory and cardiovascular reserves. However, there are several proactive steps they can take to safeguard their well-being and reduce the impact of pollution on their heart and lungs.
TIPS TO PREVENT ELDERLY FROM AIR POLLUTION
Regular Exercise: Regular physical activity can strengthen the heart and lungs, making them more resilient to the effects of pollution. However, older people should choose indoor exercise options on high pollution days to reduce exposure.
Wear Masks: Wearing masks can provide a physical barrier against inhaling harmful particles. N95 respirators or masks designed specifically for pollution protection can be effective, especially during outdoor activities.
Balanced Diet and Hydration: A balanced diet rich in antioxidants and proper hydration can help protect the heart and lungs. Antioxidants, found in fruits and vegetables, can combat the oxidative stress caused by pollution. Staying well-hydrated also ensures that the respiratory system functions optimally.
Deep Breathing Exercises: Deep breathing exercises are important to increase lung capacity and boost the respiratory system. Shortness of breath, coughing, sneezing becomes common problem but regular practise of breathing exercises can help manage it better.
Monitor Air Quality: Keeping a close eye on local air quality is the first step in protecting the heart and lungs. Various apps and websites provide real-time pollution data. On days when pollution levels are high, older individuals should consider staying indoors or planning outdoor activities during times of lower pollution.
Use Air Purifiers: Investing in a high-quality air purifier can significantly improve indoor air quality. Air purifiers with HEPA filters can remove particulate matter, allergens, and pollutants, creating a safer environment for older individuals.
Additionally, staying up-to-date on vaccinations, particularly the annual influenza vaccine, can help prevent respiratory infections that may worsen the effects of pollution on the heart and lungs.
Aging population is particularly susceptible to the detrimental effects of rising pollution. However, there are several practical steps that older individuals can take to protect their heart and lungs. By monitoring air quality, using air purifiers, exercising, ensuring proper ventilation, wearing masks, and maintaining a healthy lifestyle, older people can significantly reduce their vulnerability to the harmful impacts of pollution. These actions can contribute to a better quality of life and enhanced well-being for older individuals amid the ongoing challenge of increasing pollution levels.