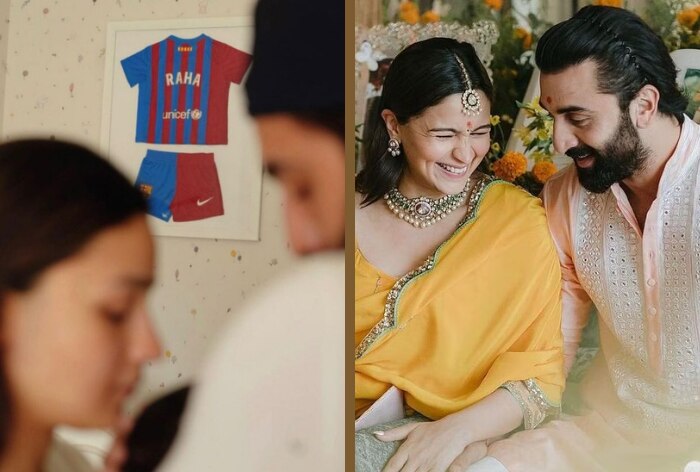 Ranbir Kapoor and Alia Bhatt celebrate their daughter Raha Kapoor's birthday. Here's how fans have planned the celebration of Junior Kapoor over social media.
Bollywood celebrities Ranbir Kapoor and Alia Bhatt are set to celebrate their daughter's first birthday today, November 6. Raha's parents have been planning something for their daughter's birthday and the day has come for a cosy party with near and dear ones. Alia and Ranbir tied the knot last year in April and gave birth to Raha after a couple of months. The Bollywood couple have been quite busy with parenting their daughter and side-by-side managing their professional lives.
The Bollywood couple have often been seen speaking about 'Junior Kapoor' on social media, addressing how much she means to them. Ranbir Kapoor has multiple times shown how much he loves being a proud father in the interviews. The couple has been trying to keep their daughter away from paparazzi and social media as they haven't revealed Raha's face to the public.
As Raha Kapoor turns one, here's how fans of Ranbir and Alia have been congratulating the couple. A user wrote on Twitter, "His wish came true and now he has his lifeline, his daughter Raha bub. HBD Raha 🧿🎈". Another user commented, "The darling of nana-nani, dadi, bua and massi Raha, Happy Birthday! We love you".
Happy birthday to our dearest Raha Kapoor ♥️🌈 may God always bless you little darling 🧿 #RanbirKapoor #AliaBhatt #RahaKapoor pic.twitter.com/jGxnu9VumR

— hot chocolate (@kapOor_with_a_O) November 5, 2023
Salutation Mam #RahaKapoor ,Many Many happy returns of the day.Bhagwan Shiva krishna aapko lambi aayu de aur aachi sehath de Mai Vandana karta hu aapka Liya.Prayers for long life,good health and happiness.I pray for you.

— SHEWAT VISWANATH SHARMA(KAUSTUBH, BHARAT,KRISHNA) (@shewat_sharma) November 6, 2023
rk's biggest flex ❤️🤌🏻
.#RanbirKapoor #AliaBhatt #RahaKapoor pic.twitter.com/UklFAx0UWu

— N 🦅 (@rkauthenticc) November 5, 2023
Happy birthday to little munchkin. Love u 😘 cutie
Stay blessed always ❤️

Happy birthday Raha Kapoor ❤️🧿 pic.twitter.com/eEYGEGIyj2

— self criticising actor's fan (@Rk_is_unique) November 5, 2023
If you guys notice Car ki Pooja, Kapoor family ki Lakshmi Raha ne ki hai. ❣️ #RanbirKapoor people hate you for being what they could never be. Best as always Love You RK https://t.co/RXqCBdMMCo pic.twitter.com/Igpq1fbBeb

— 🐰 (@rksbunny) August 16, 2023
Alia and Ranbir in an interview shared their fear of becoming parents, and the couple didn't know how would it feel to see their baby's face flashed all over social media. But that doesn't stop the netizens from celebrating baby Raha Kapoor's birthday over social media.
In an earlier interview, Alia stated, "I realized when I was traveling from Mumbai to London, my bag had nothing to do with me. It just had my passport. But otherwise, it was her pacifier, her napkins, a burp cloth, her mittens, an extra pair of socks, a little toy, and a little book. And I said, 'Okay, okay, my bag has now become Raha's bag. It's no longer my bag."