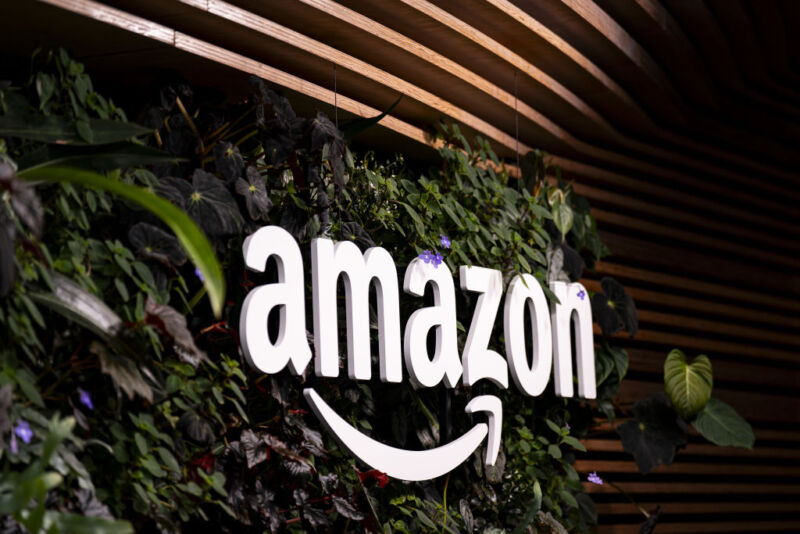 Last week, the Federal Trade Commission sued Amazon, alleging that the online retailer was illegally maintaining a monopoly. Much of the FTC's complaint against Amazon was redacted, but The Wall Street Journal yesterday revealed key details obscured in the complaint regarding a secret algorithm. The FTC alleged that Amazon once used the secret algorithm to raise prices across the most popular online shopping destinations.
People familiar with the FTC's allegations in the complaint told the Journal that it all started when Amazon developed a secret algorithm code-named "Project Nessie." It allegedly works by manipulating rivals' weaker pricing algorithms and locking competitors into higher prices. The controversial secret algorithm was allegedly used for years and helped Amazon to "improve its profits on items across shopping categories" and "led competitors to raise their prices and charge customers more," the WSJ reported.
The FTC's complaint said:
Amazon uses its extensive surveillance network to block price competition by detecting and deterring discounting, artificially inflating prices on and off Amazon, and depriving rivals of the ability to gain scale by offering lower prices.
The FTC complaint redacted this information, but sources told the WSJ that Amazon made "more than $1 billion in revenue" by using Project Nessie, while competitors learned that "price cuts do not result in greater market share or scale, only lower margins," the FTC's complaint said.
"As a result, Amazon has successfully taught its rivals that lower prices are unlikely to result in increased sales—the opposite of what should happen in a well-functioning market," the FTC alleged.
Amazon stopped using the secret algorithm in 2019—for no clear reason, sources told the WSJ.
FTC spokesman Douglas Farrar told the WSJ that the agency wants more public access to redacted information in the complaint and continues to "call on Amazon to move swiftly to remove the redactions and allow the American public to see the full scope of what we allege are their illegal monopolistic practices."
Amazon did not respond to Ars' request for comment.
In a blog responding to the FTC's lawsuit, David Zapolsky—Amazon's senior vice president of global public policy and general counsel—wrote that the FTC fundamentally misunderstands how retail markets work. Zapolsky said that "matching low prices offered by other retailers" has not "somehow" led "to higher prices."
"That's not how competition works," Zapolsky wrote. "The FTC has it backwards and if they were successful in this lawsuit, the result would be anticompetitive and anti-consumer because we'd have to stop many of the things we do to offer and highlight low prices—a perverse result that would be directly opposed to the goals of antitrust law.
According to the FTC's complaint, "Amazon recognizes the importance of maintaining the perception that it has lower prices than competitors," but that Amazon designed Project Nessie specifically "to deter other online stores from offering lower prices than those of Amazon."
In a press release, the FTC confirmed that it intends to prove that Amazon is "stifling competition on price," among other alleged consumer harms.
"Amazon's far-reaching schemes impact hundreds of billions of dollars in retail sales every year, touch hundreds of thousands of products sold by businesses big and small, and affect over a hundred million shoppers," the FTC's press release said.
"Seldom in the history of US antitrust law has one case had the potential to do so much good for so many people," John Newman, the deputy director of the FTC's Bureau of Competition, said.
More guidance on secret algorithm needed
"It's stunning to me that there's been so little attention from policymakers to how dominant online firms can manipulate prices upward without detection or penalty," Stacy Mitchell posted on X (the platform formerly known as Twitter).
Mitchell is the co-director of the Institute for Local Self-Reliance—a national research and advocacy organization that opposes corporate control. On X, she said she wasn't surprised by the WSJ's report because she and other researchers "have warned about how the dynamics of algorithms easily give rise to" behaviors like Amazon's alleged price manipulations.
Mitchell told Ars that although Project Nessie may have ended, other Amazon pricing algorithms appear to be ongoing. However, Amazon's algorithms could be potentially disrupted if the FTC proves they have been used to harm competition.
"The complaint's allegations about how Amazon uses secret algorithms and web-crawlers to block price competition in multiple ways are quite serious," Mitchell told Ars. "If the FTC brings evidence to these charges, I think Amazon is in trouble."
Luc Rocher, a lecturer at the Oxford Internet Institute who studies competition harms of secret algorithms, was also not surprised by the WSJ's report.
Rocher posted on X that Amazon's secret algorithm "matches perfectly" with predictions that they and co-authors made earlier this year in a report finding that dominant firms' "strong pricing algorithms can manipulate competitors, and make them lower or raise their prices, at the expense of consumers."
In May, Rocher and co-authors published a research article, "Adversarial competition and collusion in algorithmic markets," in the journal Nature Machine Intelligence. In it, they explained how "sophisticated computer algorithms" can be "used to set prices in online marketplaces" and "put consumers at risk of collusion among sellers," a press release said.
Their study concluded that there were also risks of "one dominant firm"—such as Amazon—developing an secret algorithm that "can manipulate other sellers which have weaker pricing algorithms" and "increase prices for everyone" to "potentially increase their profits at the expense of consumers."
Rocher told Ars that "the FTC's complaint validates" the prediction that "pricing algorithms can be manipulated using 'adversarial collusion,' a new anti-competitive practice where one dominant firm manipulates weaker algorithms."
"Adversarial collusion is an understudied risk, enabling one dominant firm to learn how other algorithms function to increase prices for everyone," Rocher told Ars, warning that it "can be subtle and very difficult to detect in practice."
Currently, regulators in the US, the European Union, and the United Kingdom may not be prepared to detect this type of anticompetitive practice, Rocher's group said, cautioning, "We believe further study is needed with academics and policymakers working together to try to address these important issues for the wider benefit of society."
Rocher's group also suggested that it's possible that regulators, including the FTC, may find that regulating pricing algorithms like Project Nessie falls outside the scope of current competition laws. That's why Rocher advocates for regulators to provide more guidance on algorithmic pricing and require greater transparency and accountability from online retailers so that everyone impacted by pricing algorithms can better understand their market effects.
"There is currently not enough transparency and accountability for researchers to independently study and monitor these new risks that could already be happening in many online markets," Rocher told.
Read More: Entertainment 
Follow Us: Twitter