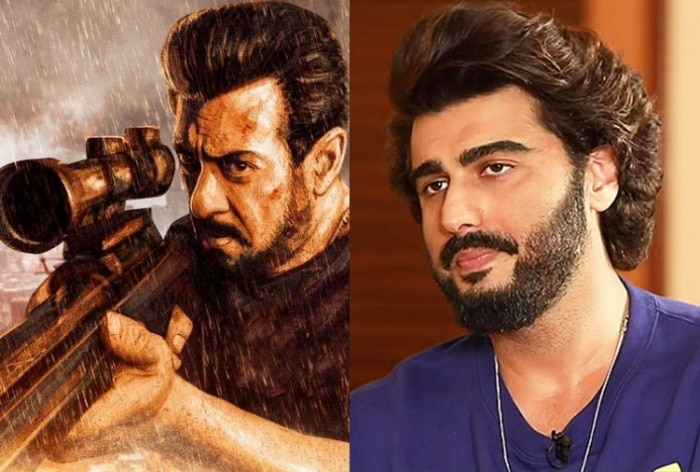 Tiger 3 Success: Arjun Kapoor, who calls himself Salman Khan's big fan, watches the movie in a Mumbai theatre. Check the photo here.
Actor Arjun Kapoor had a strained relationship with Salman Khan for a while now. However, a recent gesture by Arjun has refuted all the unverified media reports claiming that the actors were not on speaking terms. Kapoor was spotted at a Mumbai cinema on Monday, catching a screening of Salman Khan's latest action thriller, 'Tiger 3'. Despite reports of a strained relationship between the two actors, Arjun seemed to be enjoying the film alongside director Siddharth Anand. Sporting a low-profile look, he wore a black sweatshirt, matching pants, and a cap. While the cause of the rumored tension between Arjun and Salman remains unknown, it's worth noting that Arjun is currently in a relationship with Malaika Arora, who was previously married to Salman Khan's brother, Arbaaz Khan.
Arjun has remained tight-lipped about any past discord with Salman in the public eye. However, a 2020 interview with Arjun's father, Boney Kapoor, shed light on their unique relationship. Boney Kapoor revealed that Salman Khan played a pivotal role in inspiring Arjun to embark on a career in acting. The elder Kapoor explained, "Arjun's original aspiration was to become a director, so there were no initial plans to introduce him as an actor. But one day, Salman reached out to me and suggested that Arjun should explore acting, as he believed Arjun had the potential for it." This pivotal moment in Arjun's life, when Salman recognized his latent talent and encouraged him to explore it, marked the beginning of a mentorship that would significantly shape Arjun's acting journey.
Tiger 3's Box Office Collection
'Tiger 3' made a grand entrance into the box office, becoming Salman Khan's biggest opener to date. Trade analyst Taran Adarsh reported that the film earned Rs 100 crore in two days. He tweeted, "TIGER HITS CENTURY IN 2 DAYS… #Tiger3 hits the ball out of the park on Day 2 [Mon]… The *2-day* total now crosses ₹ 100 cr mark, it's the third #Hindi film [in 2023] to hit century in 2 days / 48 hours: #Pathaan [Jan], #Jawan [Sept] and now #Tiger3 [Nov]. #Tiger3 went on an overdrive on Day 2 in #Delhi, #UP, #Haryana, #Punjab, #Rajasthan and #MadhyaPradesh… The film had underperformed in some circuits on Day 1, but the extraordinary growth on Day 2 has brought the film back on track. #Tiger3 Sun 43 cr, Mon 58 cr. Total: ₹ 101 cr. #India biz. #Hindi version. #Boxoffice #Tiger3 [#Tamil and #Telugu] Sun 1.50 cr, Mon 1.25 cr. Total: ₹ 2.75 cr."
The Salman Khan, Katrina Kaif and Emraan Hashmi starrer mints Rs 94 crore worldwide on day one of the film release.
'Tiger 3' is the third installment in the Tiger franchise and part of the YRF Spy Universe, alongside films like 'War' and 'Pathaan.' The star-studded cast includes Salman Khan, Katrina Kaif, and Emraan Hashmi. Adding to the excitement, the film features cameo appearances by Shah Rukh Khan and a post-credit scene with Hrithik Roshan. Directed by Maneesh Sharma, 'Tiger 3' is making waves as one of the most successful releases in recent times.