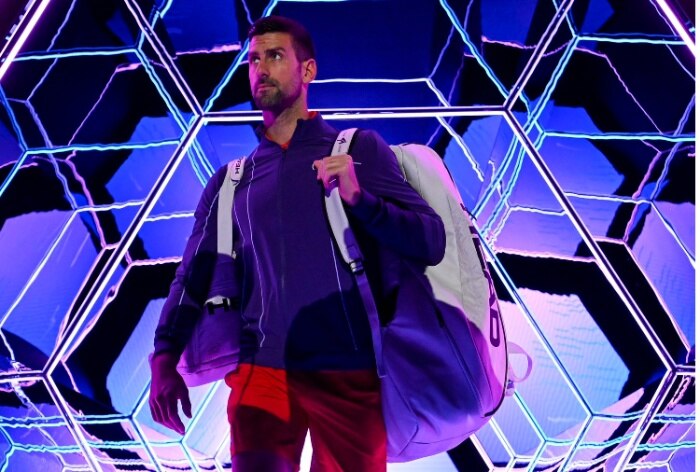 Novak Djokovic is just one win away from securing the year-end No. 1 ranking for a record-extending eighth time.
Turin: Novak Djokovic has already done well enough at holding off the rise of the so-called "Next Gen" by keeping players like Alexander Zverev, Stefanos Tsitsipas and Daniil Medvedev from winning more titles. Now, for the first time at the ATP Finals, Djokovic is joined by the three players who are being labeled the 'Young Gen'. Carlos Alcaraz, 20 years old and already a U.S. Open and Wimbledon champion, is making his debut at the season-ending tournament for the year's top eight players after missing the event last year with an injury.
Jannik Sinner, 22 and coming in red hot after recent titles in China and Vienna, will be playing before a home crowd with the Italian ranked a career-high No. 4. Holger Rune, 20 and already with two wins over Djokovic, will renew his budding rivalry with the 24-time Grand Slam champion in the featured match when the tournament opens Sunday on the fast indoor court at the Pala Alpitour.
"Thanks for reminding me of the age — Next Gen, Young Gen — I don't know where I fit it, in which kind of gen group," the 36-year-old Djokovic said Friday. "Being able to be compete with the young guys is always extra motivation for me, because I know that they are hungry and have big goals and objectives to win these kinds of tournaments. … So that inspires me even more to play my best tennis."
Djokovic sure has been at his best lately, riding an 18-match winning streak stretching back to his five-set loss to Alcaraz in the Wimbledon final in July. Now Djokovic needs just one more match win to secure the year-end No. 1 ranking for a record-extending eighth time.
RIVALRY WITH RUNE
Djokovic will be meeting Rune again nine days after overcoming the Danish player in a nearly three-hour contest in the Paris Masters quarterfinals — which came a year after Rune beat Djokovic in the final of the same tournament.
None of the four meetings between Djokovic and Rune have ended in straight sets, with the series tied at 2-2. After their last match, Djokovic said it feels a little bit like looking in the mirror when he faces Rune. What's more is that Rune now has Boris Becker — one of Djokovic's former coaches — in his box.
"Our games and our styles of tennis are quite similar. We both move well, defend well. He's a very complete player, and we both bring a lot of intensity and energy to the court," Djokovic said. "I expect another close match."
Added Rune: "The key word is keep fighting until the end, because tennis is never over before the last point."
SUPPORT FOR SINNER
Sinner first played in the finals two years ago as an alternate after Matteo Berrettini was injured. Having qualified this time with weeks to spare, Sinner has become the tournament's poster boy and has been mobbed by fans wherever he's gone since arriving in Turin.
"Obviously it's a big event here in Italy, being an Italian player," Sinner said. "I will try to take a lot of positive energy with the crowd. It's going to be a lot of fun — I have to also enjoy this moment. I know what I'm capable of."
Sinner plays the tournament's opening match against Tsitsipas on Sunday. The top two finishers from each four-man group advance to the semifinals.
ALCARAZ 100%
Alcaraz missed last year's finals due to an abdominal injury and also had a short layoff recently due to a left foot injury and muscle fatigue in his lower back. Then Alcaraz was beaten by Roman Safiullin in straight sets in his opening match at the Paris Masters. "I'm feeling great now. I'm 100%," Alcaraz said. "I'm really excited to (make) my debut here and do it at 100%."
GROUPS (seedings in parentheses)
Green Group: Novak Djokovic (1), Jannik Sinner (4), Stefanos Tsitsipas (6), Holger Rune (8).
Red Group: Carlos Alcaraz (2), Daniil Medvedev (3), Andrey Rublev (5), Alexander Zverev (7).