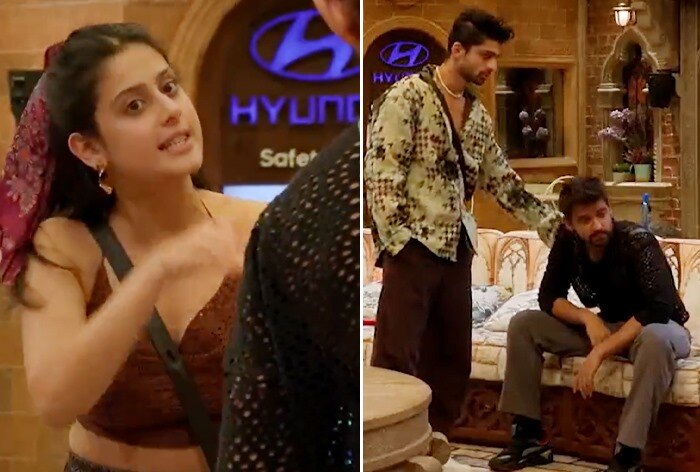 Bigg Boss 17: Netizens went bonkers as Abhishek Kumar and Samarth Jurel bonded after fight with Isha Malviya. – Check Reactions
Bigg Boss 17: Samarth Jurel created a havoc with his shocking entry in Bigg Boss 17 as he was introduced as Isha Malviya's current boyfriend. After much denial Isha accepted that Samarth is her boyfriend. Abhishek, who was initially heartbroken about Isha's relationship with Samarth, later made peace with both on them. In a recent episode, Abhishek was seen bonding and flirting with KhanZaadi after she got upset with him. However, in the latest promo, Isha and Samarth got into a heated argument as the latter snapped at his girlfriend. The actress then warned him that if he continues with this kind of behaviour, she is going to end their relationship right now. Abhishek looked serious as he observed their fight. He then consoled Samarth as he wept. Abhishek then asked, "What is that one thing that everyone falls in love with this girl?" The duo then ended up laughing. Netizens in no time came up with crazy reactions.
NETIZENS GO BONKERS OVER SAMARTH, ABHISHEK AND ISHA'S LOVE TRIANGLE:
😂😂😂

— VIRATxNAGATO (@harshcpr) November 2, 2023
#AbhishekKumar ko bol raha tha ki vo physical hota ab khud kya kar raha yeh nalla #SamarthJurel

— Pols aa gi Pols🚨 | against political chamchas (@RB0987654321) November 2, 2023
Ye h BB k favourite dimaag k log h dekho:

Munawar – Shayari k alawa no game
Manara- Koi logical mudda nahi
Jignasa & Rinku- Aj tak dikhi nahi kahi b
Naved- Hindi nahi aati islie no involvement

is se pata chalta h ki khud BB k paas kitna dimaag h

— GURDEEP SINGH (@gurdeepsingh135) November 2, 2023
Bigg boss Jo bhi Malik ho KATRORA LEKAR BHIKH MANG LE ek ladki ko 2ladkon se harrasment Kara Raha TRPand for money ISHA is just 19 game is not like game now became cheap

— Jaya Shukla (@jaya131630) November 2, 2023
Samarth hilta kyu rehta h by the way 😂

— GURDEEP SINGH (@gurdeepsingh135) November 2, 2023
Abhishek -Isme esa kya hai jo sabko pyar hojata h😍😂

My gurl is special

Happy Birthday ishaa

— Ritika (@Ritika148801) November 2, 2023
Samarth dusre ko gyaan de sakte hai kaise ladki ko respect karte hai ab woh kya kar raha hai

— Dare Devil (@dare_witch) November 2, 2023
Isha uses the guys to her advantage bt doesn't realise with this attitude she'll hv no1 with her at the end of the day..& y r the guys crying over her..!!?? She's a liar..a fake..a yapper..not true to even herself..!! Hope she changes for herself b4 she ruins people & herself

— Pari (@Pari43388150) November 2, 2023
The lamest reason for a fight between #IshaMalviya and #SamarthJurel

Samarth asked Isha for a tissue to wipe off his nose 👃

Isha thought it was for *something else* and got angry on Samarth..

And it escalated into a huge argument …#AbhishekKumarpic.twitter.com/dLa9JjNBL0

— Bigg Boss (@Bigg_Boss_1) November 2, 2023
Good news! India.com is now on WhatsApp Channels. Subscribe today by clicking the link and stay updated with the latest news on entertainment and lifestyle. Click here!