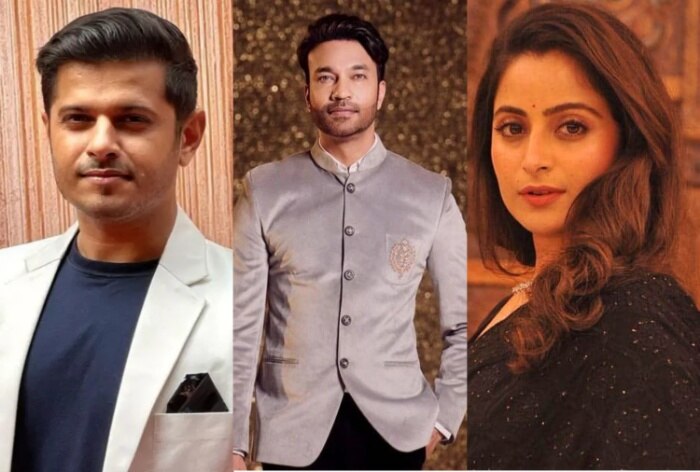 Bigg Boss 17: Netizens went bonkers as Aishwarya Sharma and Neil Bhatt got into a heated argument with Vicky Jain.
Bigg Boss 17: Neil Bhatt and Aishwarya Sharma recently got into a verbal clash with Vicky Jain over commenting on their marriage. In a new episode Vicky asked Neil if he started dating her because of her behaviour. He also took a jibe and asked him if he found her cute. Neil revealed that they never dated and instantly got married. Aishwarya then confronted her husband in private and told him that Vicky always gets away by mocking other people despite of his own relationship with Ankita going through ups and downs. While arguing with Aishwarya, Vicky said, "Baat alag level pe kiyun pahunch jaati hai mardon ke saath, maine toh nahi kiya (Why does the conversation go in another direction when it comes to men, I didn't do anything).
NEIL BHATT-AISHWARYA SHARMA GET INTO HEATED ARGUMENT WITH VICKY JAIN
Aishwarya then then replied to him and told, "Yeh akela peerit mard hai yahaan pe (He is the only male victim here). Aap khud ke jaisa dusron ko mat samjho (Don;t think everyone is like you). Apne ghar main jhaankey, apne rishtey sambhaale (Look at your own house, first handle your own relationships). Dusron ke rishte ki panchayat aapko karne ki koi zaroorat nahi hai (You do not need to do gossip about other couples). Vicky stated that, "Panchayat baithi hai toh saare matter saamne aaye (If there is a debate going on then all matters should be openly discussed)." Aishwarya the angrily opined, "Kisi ko problem nahi hai aap akele ho jisko shaadi se problem hai (Nobody has a problem, you are the only one who has a problem). Aap apne spouse ko bolo mere spouse ko nahi bol sakte (You say whatever you want to your spouse, not my partner). She furtehr added, "Khud peedit hai apni shaadi se (He is troubled by his own marriage)." Netizens came up with mixed reactions over the verbal fight.
NETIZENS REACT TO NEIL BHATT-AISHWARYA SHARMA'S FIGHT WITH VICKY JAIN
Only Aishwarya can treat Vicky #AishwaryaSharma

— (@AishFanclub_) October 30, 2023
Fire #Aishwarya

— Rajvardhan Singh Chundawat (@rajvard78751149) October 30, 2023
She is fearless#AishwaryaSharma

— (@AishFanclub_) October 30, 2023
Couple vs Couple… Aur Past Vs Present… Bohot maza aayega

— Sayed (@Sayed_Mondal_11) October 30, 2023
#AishwaryaSharma finding stupid reasons to fight with either her own husband or someone else's husband on the show !#VickyJain was just having fun, if you can't take a joke then don't make one !

And #NeilBhatt as usual without knowing the whole thing started shouting on Vicky

— (@khalii_x) October 30, 2023
Ye bhut shi hua ye vicky bada chugli chachi banke ghumra tha

— MISTI (@Sun__shine___yi) October 30, 2023
Jaha bolna hota hai vaha to aish kone me beth jati hai ab jabardasti ke mudde bana rahi hai #VickyJain

— Panda Girl (@RBhayal42452) October 30, 2023
(With inputs from IANS)
Good news! India.com is now on WhatsApp Channels. Subscribe today by clicking the link and stay updated with the latest news on entertainment and lifestyle. Click here!