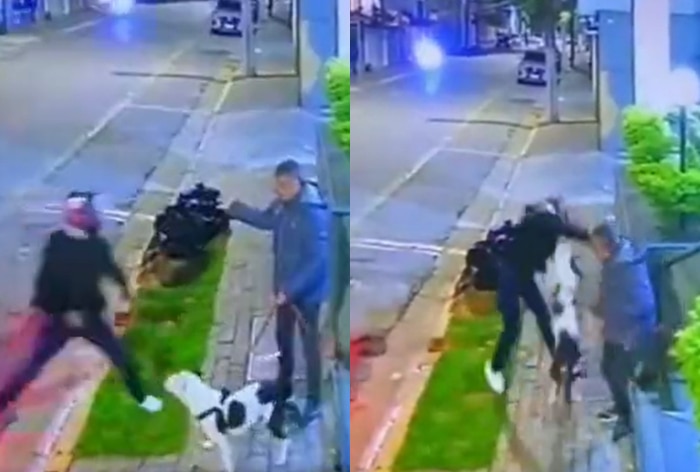 The pillion rider gets off and lunges at the man.
Brave Dog: Dogs have been our companions for a long time and this has been going on for centuries since humans domesticated these lovely animals. Over the course of time, this relationship has taken a new form that is more like human parents and their doggie children, or as the adage goes, "best friend". The second part is proved yet again as we see in this viral video. A man is out for a walk with his dog. It is dark and the road is deserted. A bike with two riders comes from the direction towards which the man is walking and it suddenly makes a U-turn and comes near the man. The pillion rider gets off and lunges at the man. Before he could touch him the man's dog, realizing that its master is in danger, jumps at the attacker. The sudden action of the dog startles him and he runs away with his partner.
The video is shared on X by Figen @TheFigen_ with the caption: That's why dogs are our best friends!
Watch The Video Here
That's why dogs are our best friends!pic.twitter.com/QThqPxcVXW

— Figen (@TheFigen_) October 27, 2023
The caption says it all. In fact, if you notice, there is another bike with two riders coming from the same direction but it moves ahead of the man and takes a U-turn but when the dog spoils the plans of the attackers they too run away.
The video has received several comments. Sharing a few with you.
Ihtesham Haider @ihteshamit: That Dog literally said " No fking way"
Biggeorge @biggeorgeTV: Why didn't he let the dog bite them?😠
Muskholic @Muskholic: My dog once invited a stranger into our home. 🤔🤔
Enitandev @enitandev: You see someone with a huge dog and still attack them?
★WaQas AsLam★ @azad_of_pindi: Yes…. They are actually good and trustworthy
Reese FALCONS 10-7 NFCSDiv CHAMPS🏆ATLANTA DREAM ! @Reese929IndAtl: Absolutely love this. He protected him!
SK @SK_PACT: Give that good boy a big treat 🐶
Ken @kendenor: They are the best….
Purity @Sophy9128540243: Yes they are our best friend
Aditya Nandode @TaiyouSun: Zero hesitation; on spotting a possible enemy!
Chinee Okoloigwe @chineekol: Your best night walk partner is your dog.
Chinee Okoloigwe @chineekol: I like how dogs can be overprotective