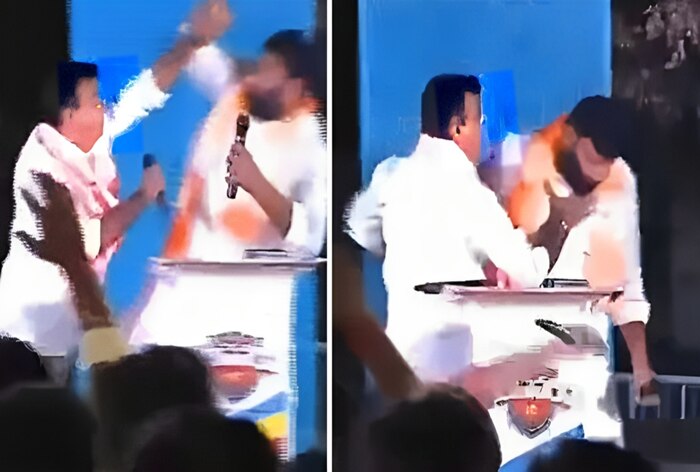 The BRS MLA attacked the BJP candidate during a live show. The BJP said people in Telangana should beware, while the BRS defended its leader saying he was provoked.
Telangana: A live television debate turned into a wrestling match when sitting BRS MLA and Quthbullapur AC candidate KP Vivekananda Goud physically attacked former MLA and BJP candidate Kuna Srisailam Goud, triggered by his opponent's remark. Goud lost his composure and physically confronted Kuna Srisailam Goud following a heated debate during a live TV debate. In a video that has gone viral on the internet, KP Vivekananda Goud can be seen briefly grabbing Kuna Srisailam Goud's throat in front of the show's host, with police personnel also seen intervening to defuse the situation.
Supporters of both leaders can also be seen throwing chairs and reaching the stage by breaking the barricades.
BRS MLA Attacks BJP Candidate: Watch Here
Ugly scenes during a Live TV debate show in #Telangana. Sitting #BRS MLA and Quthbullapur AC candidate KP Vivekanand Goud attacked former MLA and #BJP candidate Kuna Srisailam Goud. #TelanganaAssemblyElections2023 pic.twitter.com/lCjUISCINx

— Ashish (@KP_Aashish) October 25, 2023
BJP Slams BRS Over The Incident
In response to the incident, BJP state unit president and Union Minister G. Kishan Reddy criticized the ruling BRS, stating that it is alarming when an opposition candidate is physically assaulted and involved in a public scuffle. He raised the concern that if the BRS returns to power, one can only imagine what might occur.
Reddy accused the BRS MLA from Quthbullapur of attacking the BJP candidate from the Kuna constituency simply because he couldn't provide a satisfactory answer to the question posed to him. He describes the attack as an act of cowardice. The senior BJP leader insisted that the police must file a case against the BRS leader; otherwise, his party will resort to legal action.
BRS Defends Its MLA
BRS party spokesperson Shravan Dasoju alleged that the BJP candidate had provoked the MLA by making a reference to his father during the debate. However, he noted that both of them should have maintained decorum and decency during the show.