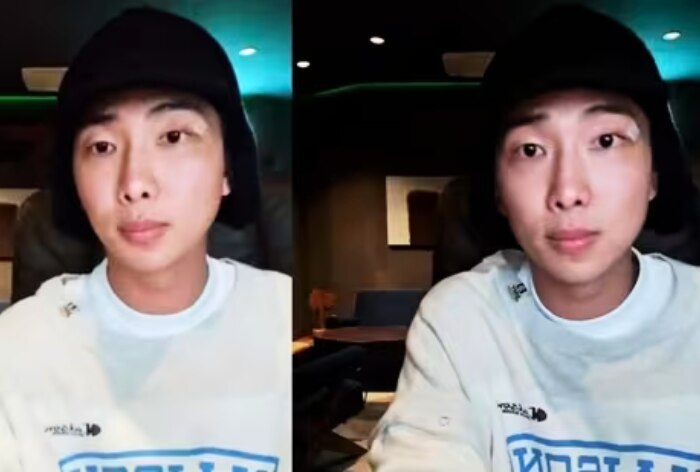 Leading singer RM a.k.a Kim Namjoon went live on Tuesday evening he shared how he ended up having a scar on his face which made the fans worried. Here's what the lead singer shared with the BTS army… 
BTS lead vocalist RM also known as Kim Namjoon, hosted a live session on Weverse, and he engaged in speaking on interesting topics including BTS members Jungkook, Jimin, and V (Kim Taehyung).  On Tuesday evening, RM went live and shared that he wants to visit India. The singer also talked about his impending military service during the livestream with the BTS army. RM opened up about how he ended up having several scars on his face which made fans worried. Here's what the lead singer of the BTS had to say to the BTS army…
RM's Plan on Visiting India
When asked about visiting India, RM replied, "Yeah, I'd like to go there someday." "I mean, why not?" In a conversation with the BTS Army, a fan asked "When asked which nation he would like to visit to unwind?", RM said, "Definitely Switzerland or Iceland Do I want to do Bon Voyage again?" he said. "Absolutely." When asked what he is currently working on, RM said, "You will find out very soon." Surprises are always welcome." Hearing this many BTS fans in India are quite excited to meet RM.
RM Talks About Military Service
While a desperate fan showed up asking RM about his driver's license, the lead singer unravelled his plans to join the military service. He said, "Not yet but after military service." He also added, "1.5 months left till the end of the year? Why is time going by so fast?" Another fan during the livestream asked RM what presents he expects during Christmas. RM cleverly handled the conversation he replied "Haha… I'll just stop here." BTS Army always keeps a close eye on their singers, fans stormed into the comment section of the live stream asking about RM's hair. The lead singer said "Talking about his hair, RM said, "My hair? I don't think I can grow it out anytime soon. Don't be sad I'll be able to sometime later."
RM Reveals His Favourite Song by Jungkook
During the interaction with the BTS Army fans also asked RM's favourite music composed by Jungkook this is what RM said: "Standing Next To You, Hate You, Maybe 3D."About Jimin, V, and Jungkook, RM stated, "Have I recently had a meal with the members?  his answer was "No." He added, "But Jimin, Jungkook, and Tae appear to be having a good time these days." The vocalist on multiple occasions sang a couple of songs of the BTS members.
Lead Singer Opened How He Got Hurt
RM in his livestream opened up about the wounds he got when he was young. pointing at his scar he said, "Yeah, these are all bruises. I believe there is still a scar." The singer pointed at his lip area. RM  also added "I have a scar here from when I was younger. My eye? I received around five stitches. I was filming something and the camera was too close and slid against that place, so I had to stop filming and go to the hospital immediately away, but I'm alright now."
Stay tuned for more information on BTS updates !!