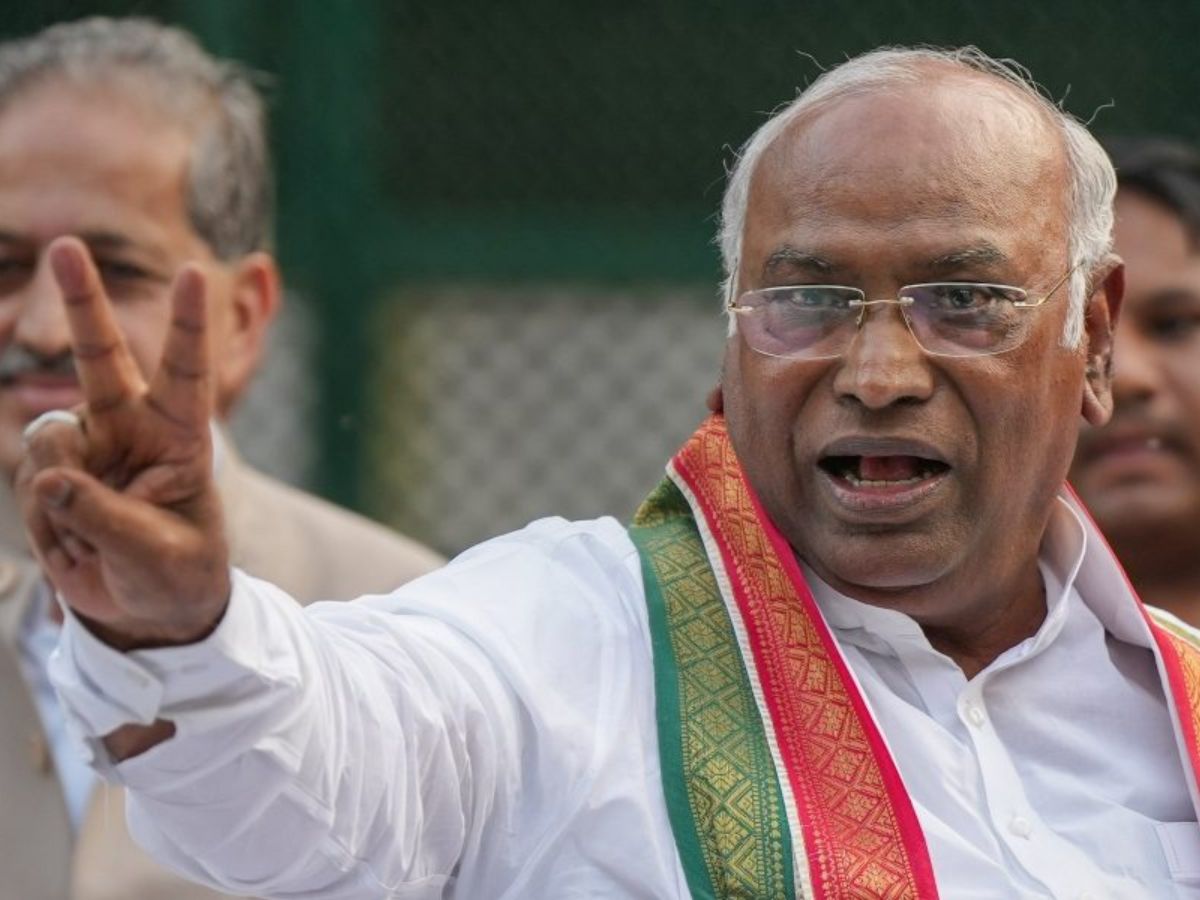 Ahead of the Chhattisgarh Assembly Election 2023, Congress President Mallikarjun Kharge is extremely confident of the party's win in the upcoming polls. He also said, 'Congress sabke dil mein hai..'
New Delhi: Before the year ends, there are going to be State Assembly Elections 2023 in India, in five states, namely, Chhattisgarh, Telangana, Mizoram, Rajasthan and Madhya Pradesh. All political parties are gearing up for the state polls, holding campaigns and rallies and also simultaneously releasing their list of candidates for different constituencies. In a media interaction for the upcoming Chhattisgarh Assembly Election 2023, Congress President Mallikarjun Kharge has expressed his confidence of winning the polls and has even said, 'Congress sabke dil mein hai..' which translates to- Congress is in the hearts of the people.
Mallikarjun Kharge Confident Of Win In Chhattisgarh Election 2023
Congress National President Mallikarjun Kharge on Friday expressed that his party would emerge victorious in the upcoming Chhattisgarh assembly polls. "Congress sabke dil mein hai. The atmosphere over here is telling us that even the public wants us to win. They want to vote for the Congress party. Because whatever we promised, we fulfilled it", the Congress president said while speaking to reporters in Chhattisgarh's Raipur.
Congress President Lashes Out At Amit Shah For His Remarks
Meanwhile, he also hit out at Union Home Minister Amit Shah over his remarks against the Chhattisgarh government. "They (central government) are making attacks at the opposition by scaring it in the name of ED and CBI. How come they are taking legal action against opposition members at a time when the election is around the corner? Why didn't they do it earlier? They are trying to scare the opposition by demoralizing it", Mallikarjun Kharge said.
Amit Shah Calls Bhupesh Baghel 'Pre-Paid' CM
Mallikarjun Kharge has reacted to Union Home Minister Amit Shah calling the Chief Minister of Chhattisgarh, Bhupesh Baghel a 'Pre-Paid CM' of Congress and that his 'talktime has ended'. Amit Shah said that Chhattisgarh Chief Minister Bhupesh Baghel is a 'pre-paid CM' of Congress and that the validity of his talk time has ended.The Union Home Minister alleged that Bhupesh Baghel has made Chhattisgarh the ATM of the Congress. During his address, the minister urged the public to vote for Bhawna Bohra, the Bharatiya Janata Party's candidate from Pandariya in the November 7 (first phase) polls."When you all go to vote, do not vote to elect an MLA or a minister…Your vote shapes the future of Chhattisgarh…Your vote is to end Naxalism and make the Adivasi region a developed region," he said.
Bhupesh Baghel Is Looting People Of Chattisgarh: Union Home Minister
"Bhupesh Baghel is looting the people of Chhattisgarh. The person who wants to develop his politics cannot do the welfare of Chhattisgarh. That is why I say that he is a 'pre-paid CM' of Congress. Even by mistake, if Bhupesh Baghel becomes the Chief Minister again, then thousands of crores of rupees will be withdrawn by swapping the prepaid cards daily. If all this money goes to Delhi, then how will Chhattisgarh develop?" Shah added. Sharpening his attack further, he said that the pre-paid CM's validity has now ended." This (pre-paid) CM, his validity was only this much, talking time was only this much. The way in which a pre-paid SIM card stops working when money gets over, in the same way, this CM's time will be over when money will end. He has done many scams in five years so that his time does not get over," Shah said further.
Chhattisgarh Assembly Election 2023: Schedule
The elections for the 90-member Chhattisgarh Assembly will be held in two phases, with the first phase of polling for 20 seats scheduled on November 7 and the remaining 70 seats to go for polling on November 17. The counting of votes will be done on December 3.Congress stormed to power in Chhattisgarh in the 2018 elections, winning 68 out of 90 seats. The party had a vote share of 43.9 per cent. BJP won 15 seats and had a vote share of 33.6 per cent.
(Inputs from ANI)