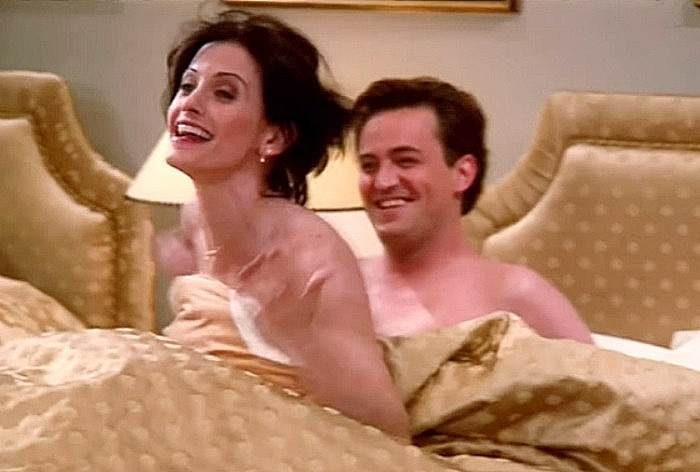 Days after Matthew Perry was laid to rest with a private funeral in Los Angeles, his FRIENDS co-star Courteney Cox shared a heartfelt post for remembering him on social media.
Los Angeles: Days after the death of her FRIENDS co-star, Matthew Perry, Courteney Cox took to social media to put her heart down in a sincere tribute to the actor. Matthew, lovingly called Matty by his friends and family members, died at his house in Los Angeles last month. He was best known for living a victorious life against his addiction to drugs, and for his memorable performance in the world-renowned sitcom FRIENDS in which he played the role of Chandler Bing.
Courteney, who played Monica in the series, his friend-turned-spouse, shared a blooper scene on social media as she remembered her dearest Matty and all the things he would do to make her laugh. Monica and Chandler, popularly known as Mondler, made a lovely couple in the show. In fact, the audience's reaction to their chemistry was so strong that what was conceptualised as a one-night fling between the two had to be written like a legit relationship later. Courteney talked about the same chemistry in her heartfelt post for Matthew and wrote, "To give a little backstory, Chandler and Monica were supposed to have a one-night fling in London. But because of the audience's reaction, it became the beginning of their love story (sic)."
Check out Courteney Cox's post remembering Matthew Perry:
A few hours before Courteney's post, Matt LeBlanc shared an emotional tribute for Matthew. Matt played the role of Joey in the show, who was best friends with Chandler. In his tribute on Instagram, he shared a few cherished moments of friendship between Joey and Chandler and also dropped a never-seen-before photo of the whole cast from the last episode of the show.
Matt LeBlanc remembers Matthew Perry in a heartfelt post, shares Joey-Chandler moments
A part of his post read, "It was an honor to share the stage with you and to call you my friend. I will always smile when I think of you and I'll never forget you. Never.
Spread your wings and fly brother you're finally free. Much love. And I guess you're keeping the 20 bucks you owe me (sic)."
These posts from Courteney and Matt left the fans heartbroken. Matthew, who continued his fight with addiction and also helped thousands of those who were struggling with the same, was found dead at his house in LA on October 28. He was 54 when he breathed his last and left his fans to deal with the unfathomable grief. His cause of death has not yet been announced, as the LA County Medical Examiner's office is waiting for the toxicology results. May his soul rest in peace!