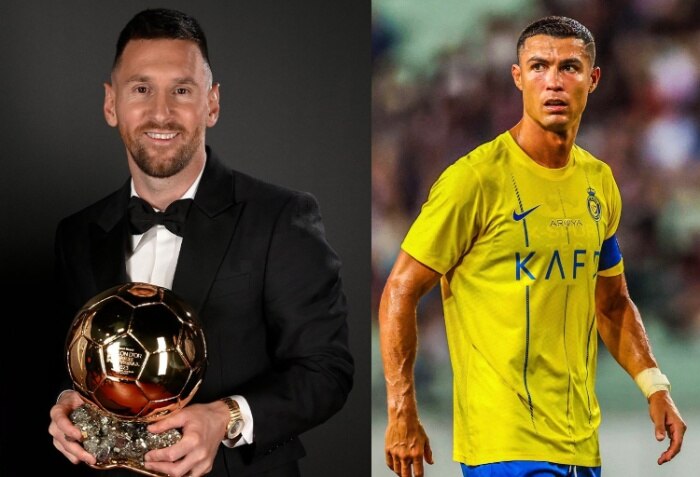 Portuguese star footballer, Cristiano Ronaldo once again grabs the headlines for all the wrong reasons.
New Delhi: Lionel Messi scripted history on Monday after clinching a record 8th Ballon D'or in Paris. After missing out on the nomination last year, the FIFA World Cup winning captain with Argentina makes a comeback to reclaim his throne. But his win has also been criticised a lot around the globe and many think that Manchester City's Erling Haaland should've won the award for winning the club treble and scoring 52 goals in all competitions. Messi's eternal rival, Cristiano Ronaldo made a shocking comment on the win that has sent shockwaves through out the social media.
A Spanish journalist named, Tomas Roncero said in a video that the Ballon D'or should've been given to Haaland and Messi has snatched away the Ballon D'ors of Xavi, Iniesta and Robert Lewandowski. He even added that the 36-year old 'looked retired' during his time with PSG.
"Hello friends. What we knew has happened. They were going to give another Ballon d'Or to Messi. He went to retire at Miami, but he was already looking retired at PSG to prepare for the World Cup. He won the World Cup, yes, well, but with 6 penalties in their favour. The World Cup was 10 months ago, we're in November. Messi has eight Ballon d'Ors well, he should have five, he has the Ballon d'Ors of [Andres] Iniesta and Xavi, [Robert] Lewandowski who won six trophies in one season and Haaland who was the top scorer of everything", Rocero said.
🚨 Cristiano Ronaldo ha dado LIKE y se ha reído en un vídeo de Tomás Roncero en el que critica el Balón de Oro que le han dado a Leo Messi. pic.twitter.com/R1OcS5LBeq

— SrNaninho (@SrNaninho) October 31, 2023
To everyone's surprise, Cristiano Ronaldo liked the controversial post and even commented with four laughing emojis. This has come as a shocker to football fans and many have slammed the 38-year old for his 'jealous' remarks. Ronaldo has won the Ballon D'or a total of 5 times and this time around missed out a nomination spot for the first time since 2003.
This is not the first time, Ronaldo grabbed the headlines for all the wrong reasons. Two years back in 2021 when Messi won the Ballon D'or, CR7 commented on a fan rant-post of how Robert Lewandowski and Ronaldo had a better year and Messi wasn't even close to them to win the award. The then Juventus player wrote 'Factos' means 'Facts' in the comments section.
Is Ronaldo really obsessed with Messi ? Well, we don't know what the real truth is and we should leave it for the fans to decide.