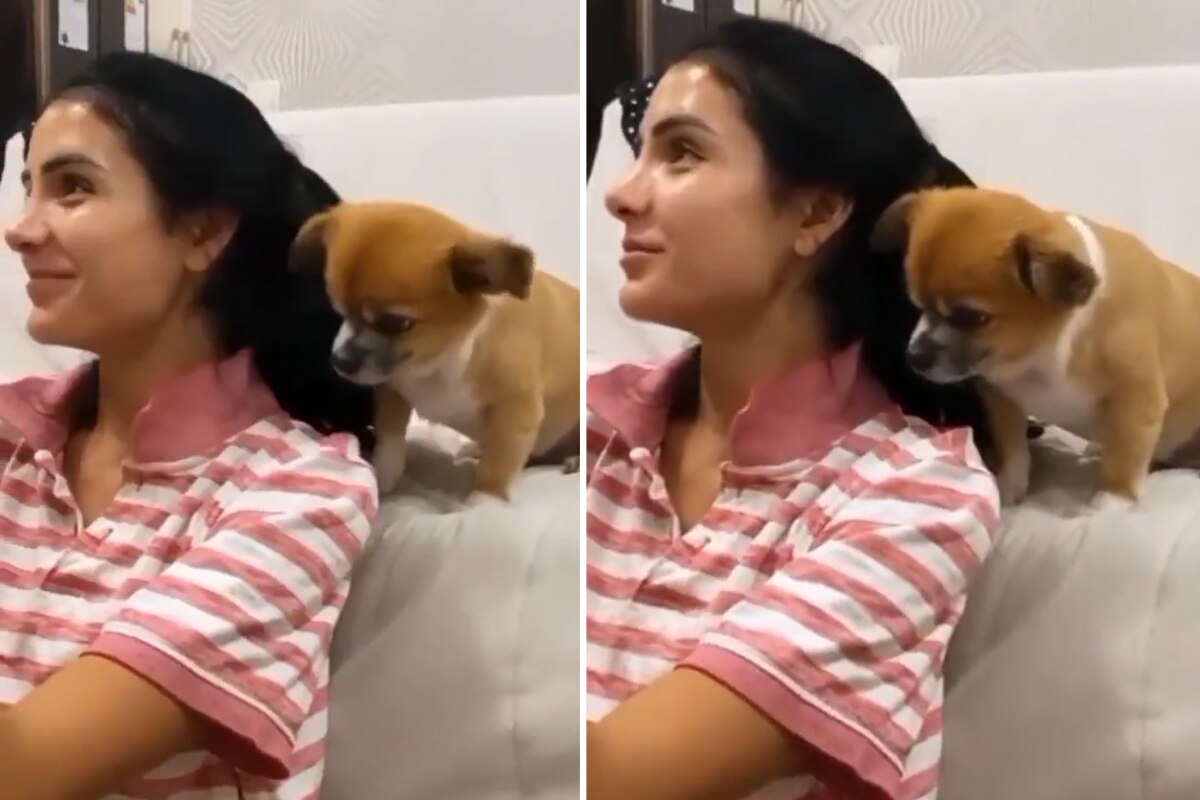 Our pets brighten up our lives with their playful behaviour and funny acts.
Little Doggie And Mom: We love to have pets, such as dogs, cats, and birds. Our pets are our best buddies and for many, they are much more than that, they are their "pet children" and an integral part of the family. They create a vibrant and lively atmosphere in our homes. Time and again they impress us with their funny and amusing acts. In fact, we can go on watching them play like children. They brighten up our lives with their playful behaviour and funny acts. Sometimes, they amaze us with their exceptional skills which take us by surprise.
This lovely, adorable video shows one such pet baby. A woman is sitting on the floor leaning against a couch and a small doggie is perched up on the same couch just behind her. The doggie scratches her shoulder to draw her attention. What happens next is for you to see.
Watch The Video Here
Give Me a Kiss Mommy pic.twitter.com/4byDEcHbGF

— B&S (@_B___S) November 7, 2023
The video is shared on X by B&S @_B___S with the caption: Give Me a Kiss Mommy!
Dogs have been our companions for a long time. This has been going on for centuries since humans domesticated these lovely animals. Over the course of time, this relationship has taken a new form that is more like human parents and their doggie children. Having these lively, obedient, and fiercely loyal canines in the house not only enlivens our lives but also teaches us many important lessons about life.
The video has received many comments. Sharing a few with you.
French Charmings @global_Xpr: Un bisou !
binita kumari ( fan account) ✨@psrx: Too Cute
Dr Deeban @deeban_r: Well, he knows what he wants
빛나는허니 light honey @mong_ny0730: So cute
Bobby Don Welch @Bobby_Don_Welch: ❤️❤️❤️
Marina Cherry @Marina_cherryy: And me ?
Nicholas Powell @NickthePowell: Kisses are addictive…I understand his pain!
@AdityaKLives: Angry Bird
Hail Caesar @CaesarsFalace: "That's cool and all, mom, but I really gotta tinkle."
Lis d bananas @MccurryDel18202: So cute
OroBola Arowoile @OArowoile: When one kiss is not enough and pesky won't take no for an answer‍♂️
Maestrale @PSilvio69: I will try with a girl
Lu~Nicola(MusicArtist:Writer:GodsProperty) @LuNicola2: SOOOO adorable