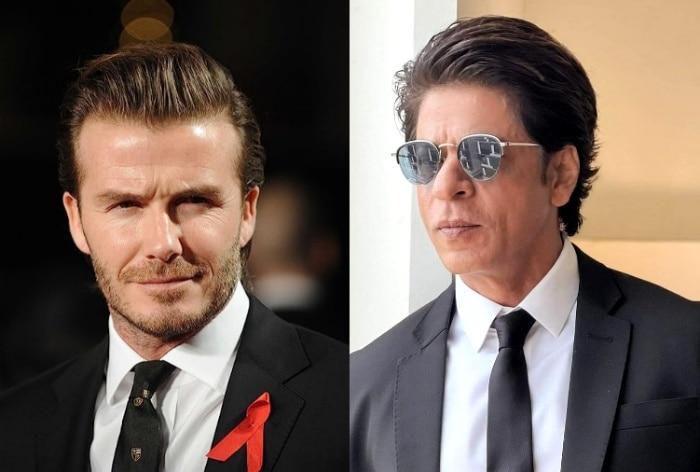 Shah Rukh Khan hosted a private party for football icon David Beckham at his Mumbai residence Mannat. See the viral video here.
David Beckham's recent visit to India made quite a splash in the media and among Bollywood circles. The football icon's trip was a blend of social engagements, star-studded gatherings, and meaningful interactions. David Beckham was hosted by several celebrities such as Sonam Kapoor, Anil Ambani-Nita Ambani, Sara Ali Khan at the Meta event and the last visit of Beckham was at Shah Rukh Khan's Mumbai home Mannat. Before departing from Mumbai, David Beckham arrived at Shah Rukh Khan's home. He kept it a low-key entrance as it was a private party.
A video of David has gone viral from outside Mannat where he is seen seated in the back of a car while entering Badshah's home.
David Beckham arrives at Mannat ❤️🔥 #ShahRukhKhan #Mannat #DavidBeckham pic.twitter.com/avg3WYLpR1

— Shah Rukh Khan Universe Fan Club (@SRKUniverse) November 16, 2023
On the day of the World Cup Semi-Finals in Mumbai, David Beckham attended a dinner party hosted by Sonam Kapoor and her husband Anand Ahuja. Anand, a keen football enthusiast, had the opportunity to watch a World Cup semi-final match alongside Beckham in the stadium. The star-studded evening saw a constellation of Bollywood celebrities gracing the occasion, including names like Malaika Arora, Arjun Kapoor, Sanjay Kapoor, Karisma Kapoor, Shahid Kapoor, and others. The guest list also featured prominent personalities like Ritesh Sidhwani, Isha Ambani, Shloka Ambani, Farhan Akhtar with Shibani Dandekar, and Aaditya Thackeray.
Social media buzzed with photos and posts shared by these celebrities, capturing moments spent with the football legend during the soirée. Beckham's charm and presence clearly left an impression on the Indian film industry's who's who.
Beyond the glitz of the party, Beckham's trip included meaningful interactions. He engaged with Sara Ali Khan and her brother Ibrahim Ali Khan at the Meta office in Mumbai. Sara later shared a video on social media, highlighting their conversation about Beckham's philanthropic endeavors, his dedication to social responsibility, and reflections on his life journey.