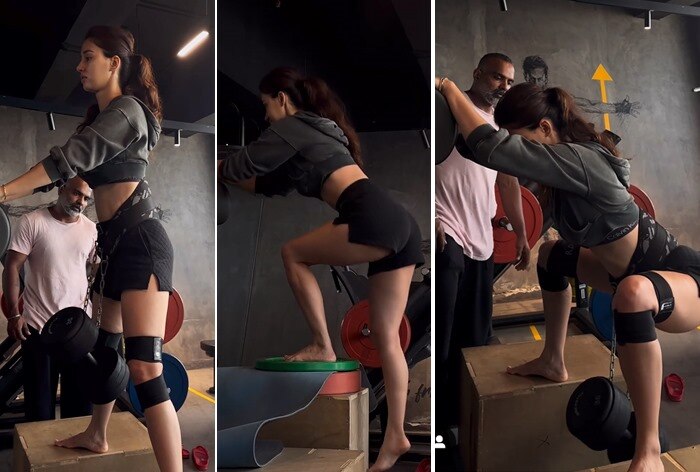 Disha Patani looks spectacular as she performs HIIT workout in stunning sportswear during her gym training session.
Disha Patani Performs Intense Workout at Gym: Disha Patani is known for her dedication towards health and fitness. The actress who slays in both western and ethnic outfits never skips her workout sessions despite being busy with her hectic shooting schedule. Disha never misses her gym regime and is regular with weight training, HIIT (High Intensity Interval Training) workout, aerial martial arts and kickboxing practice. She keeps sharing the updates of her exercise routine in her Instagram photos and reels. Her disciplined lifestyle reflects in her hourglass figure both on-screen and off-screen. Fans often praise her stunning looks from photoshoots, ramp walks and her viral beach holiday pics.
WATCH DISHA PATANI'S VIRAL WORKOUT VIDEO AT THE GYM:
DISHA PATANI PERFORMS HIIT WORKOUT AT GYM
Disha's fitness coach Rajendra Dhole recently shared a short training video where she is doing HIIT and light-weight workout under the latter's guidance. Dhole had previously also shared pictures and reels where he trained Disha and her alleged ex-beau Tiger Shroff as well. Disha wore a grey full-sleeves crop-top and hot black shorts while undergoing workout at the gym. In the clip, the Kanguva actress performs Squats, High box assisted step-up, hip thrust (drop set) on a pin load machine and Sumo or Belt Squats. Disha looks alluring and captivating as she flaunts her hot-toned legs in sexy gym shorts. Dhole captioned his post as, "I have been asked how does @dishapatani mam manages to be in an athletic shape throughout the year. Answer is: @dishapatani she is very very dedicated to her fitness routine for at least 6days of the week and nutrition , low intensity cardio , intense workouts almost daily. Nutrition and fasted low intensity cardio helps maintain low body fat and intense workouts helps build muscle mass which directly effects fat loss in a good way. I have 4 favourite exercises for building strong aesthetic glutes. 1 ) SQUATS 2) HIP THRUST (pin-loaded) 3) SUMO OR BELT SQUATS
4) HIGH-BOX STEP UPS Try them and let me know does it work? #FITNESSTEACHER
Disha will make her Tamil debut with Suriya starrer epic-action-drama Kanguva. She will also be seen in Nag Ashwin's Kalki 2898 AD featuring Prabhas, Deepika Padukone, Amitabh Bachchan, Kamal Haasan and others in crucial roles. The actress made her Bollywood debut with MS Dhoni – The Untold Story. Recently she dedicated a heartfelt post to her late co-star as the movie completed seven years. Disha captioned her post as, "Grateful for this beautiful journey and my first film in Hindi cinema Love whole heartedly and cherish the ones who make you happy safe and heard life's too short for regrets ! We couldn't say goodbye but i hope you're happy and at peace."
Good news! India.com is now on WhatsApp Channels. Subscribe today by clicking the link and stay updated with the latest news on entertainment and lifestyle. Click here!