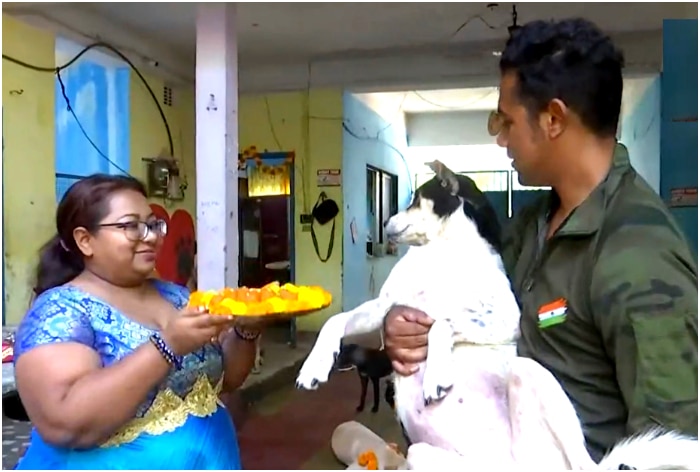 People in West Bengal's Siliguri offered prayers and honour dogs on Kukur Tihar.
Siliguri: On Saturday, residents of West Bengal's Siliguri commemorated the 'Kukur Tihar' or Kukur Puja festival at a street dog rescue center. This festival pays tribute to the endearing pooches that are revered as man's best friends. Kukur Tihar, translating to the worship of dogs, is celebrated by the people of West Bengal during Diwali. On this day, people offer prayers to dogs, not just pets but also strays. As part of the rituals canines are garlanded, tikkas applied on their foreheads and plentiful food is offered to them. Kukur Tihar is purely dedicated to dogs who are considered as the guardian and messenger of 'Yama', the lord of death.
Watch Here
#WATCH | West Bengal: People celebrated 'Kukur Tihar' at the dog rescue centre in Siliguri. (11.11) pic.twitter.com/q06izYC9aj

— ANI (@ANI) November 12, 2023
A renowned animal lovers organisation in Siliguri celebrated Kukur Tihar with great fervour. The dogs were bathed and worshipped. The NGO also prepared special food for these stray dogs to give them a nice treat on the festival.
"It's a very special day for us like Durga Puja and Kali Puja. During the day, we tried to give special attention to them. We worship them and serve special dishes. It's a very important day for us because there are so many festivals for human beings, but nothing for animals. A day like Kukur Tihar tells us that animals are also an important part of our society. People should love and respect them. During the Diwali festival people like to burst crackers which are very disturbing for the animals. So they should be concerned if animal-like dogs are very much near to them during the time of bursting crackers." NDTV quoted founder of animal helpline Priya Rudra as saying.
Priya also urged people to provide food to stray dogs. "We celebrated Kukur Tihar at our shelter today with great enthusiasm. Like God, we also worshipped street dogs today. It's my appeal to the people that they respect street dogs and serve food to them as per your limits," she said.