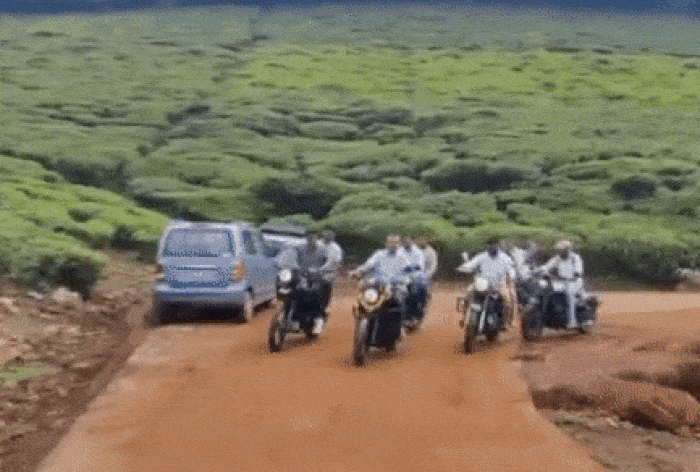 The tea estate in Nilgiri district's Kotagiri town has surprised its staff by gifting them Royal Enfield bikes as a Diwali bonus.

Special Diwali Gifts: Officegoers work very hard throughout the year, often cancelling various plans to meet their targets and complete their tasks. The festival season is the time employees eagerly anticipate a nice bonus or gift from their employers as a token of appreciation for their dedication. While many companies provide Diwali bonuses or gifts to their employees to celebrate the festive season, some go above and beyond by offering special gifts that literally make headlines. In a similar vein, a tea estate in Tamil Nadu has garnered attention for its unique gift to its employees. The employer of a tea estate located in Nilgiri district's Kotagiri town pleasantly surprised the staff by presenting them with Royal Enfield bikes as a Diwali bonus.
Now, a video showcasing the tea estate employees receiving the keys to their bikes has gone viral on the internet and has spread like a wildfire. In the video, which was shared by the news agency PTI, employees can be seen participating in various games during the event, and at the end, they are handed the keys to brand new Royal Enfield bikes as part of their Diwali bonus.
Employees get Royal Enfield bikes as Diwali bonus: Watch Here
VIDEO | With only 10 days left until Diwali, companies have initiated the tradition of offering bonuses to their employees. Many firms are providing incentives, sweets, fireworks, and clothing to their staff to celebrate the festive season.

However, a tea estate in Kotagiri… pic.twitter.com/J8uPGmczn9

— Press Trust of India (@PTI_News) November 2, 2023
Not only that, 42-year-old estate owner also went on a joyride with his employees on new Royal Enfield bikes after handing them the keys. The employees were left overjoyed with the gesture of the employer and thanked him for making this Diwali a memorable one for them.
Well, he is not the only employer with a big heart. Recently, a pharma company owner from Haryana's Panchkula surprised his employees by giving brand new cars as Diwali gifts. A video of MitsKart chairman MK Bhatia giving the brand new Tata Punch cars' keys to 12 employees, including an office helper, went viral on the internet. Watch the video here.
Speaking to the media, Bhatia expressed his deep appreciation for the unwavering commitment and diligent efforts of his team. He announced his decision to offer them a special gift for the upcoming season. Mr. Bhatia initiated the company several years ago, and these dedicated employees have remained by his side ever since.