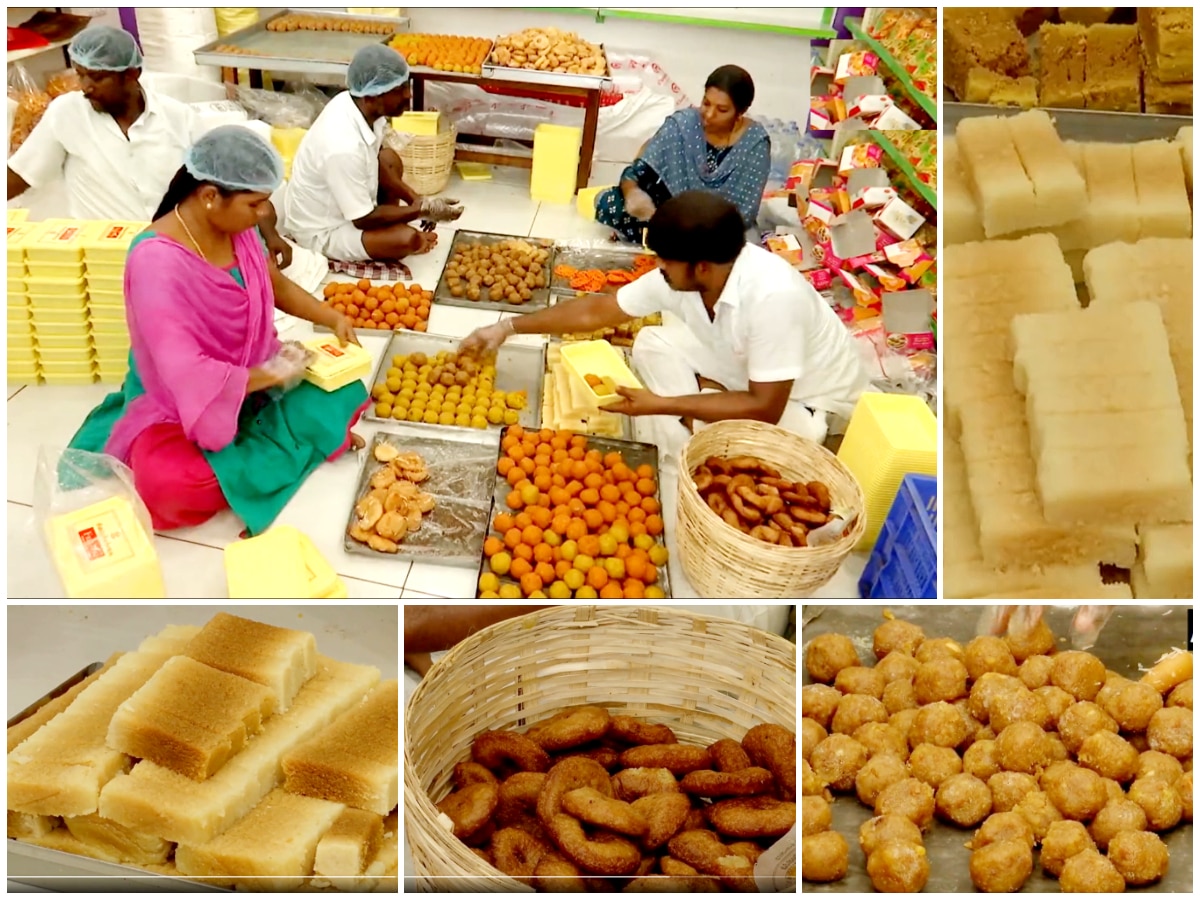 Prisoners at the Madurai Central Jail are preparing sweets ahead of Diwali.
Madurai: As Diwali is just two days away, inmates of Madurai Central Jail are busy making sweets for the people of the city. These inmates are getting help from the jail authorities to prepare items such as sweets, clothes, and snacks. These products are sold at the prison bazaar at discounted prices where people can come and purchase them. This is a very good initiative taken by the Madurai Central Jail authorities to give employment to prisoners and join them with the mainstream.
People of the city also visit these shops and purchase products at discounted prices. The money earned by selling these products is used on jail inmates. On Monday, Prison Department DIG Palani launched the sale of these products made by inmates at Madurai Central Jail Market.
According to DIG Pilani, the jail authorities are implementing numerous programs on the advice of DGP Amaraesh Pujari of the Tamil Nadu Prisons Department to improve the education and careers of the prisoners.
Products That Jail Inmates Produced
Fresh, sweet, and spicy varieties are prepared and marketed with high quality. Sweet varieties are sold at approximately Rs. 300 per kg, and spicy varieties at approximately Rs. 240 per kg. Chekku ghee, groundnut oil, and coconut oil are also produced by the inmates. Additionally, they craft blankets, towels, khailis woven in the jail, and the renowned Madurai Sungidi sarees.
Diwali
As the festival of lights, Diwali, approaches, the markets bustle with people indulging in shopping. Dhanteras, marking the commencement of this five-day festival, is considered an auspicious occasion for acquiring new metal items, particularly gold and silver. Throughout this festive period, various rituals are observed, and alongside the worship of Goddess Lakshmi, reverence is paid to several other Gods and Goddesses. The most significant day among the five days of Diwali festivities is the new moon day, known as Amavasya, celebrated through rituals such as Lakshmi Puja, Lakshmi-Ganesh Puja, and Diwali Puja.
Dhanteras puja muhurat will begin at 5:47 pm and end at 7:43 pm on November 10. Diwali will be celebrated on Monday, November 12.