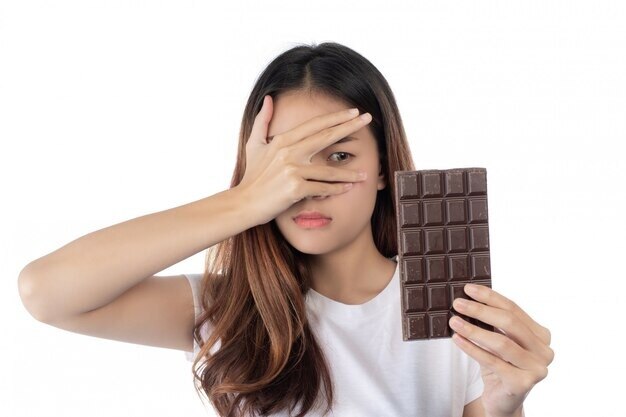 Chocolate cravings are common and can be influenced by a combination of physical, psychological and physiological factors.
Chocolate is a blend of cocoa powder, cocoa butter and sweetener and the ratio of each ingredient varies based on your preference. They are dark chocolates, milk chocolates, extra chocolates and more. Have you been experiencing constant cravings lately? Do your cravings leave you feeling irritated? Well, there can be possible causes behind this that you won't be aware of. Chocolate cravings are common and can be influenced by a combination of physical, psychological and physiological factors. Here are seven reasons behind it.
WHY DO WE CRAVE CHOCOLATES?
Sugar and fat content: Chocolate, especially dark chocolate, is often high in sugar and fat, which can stimulate the brain's reward centres. The combination of sugar and fat creates a pleasurable taste and mouthfeel that can trigger cravings.
Endorphin Release: Chocolate can lead to the release of endorphins in the brain. Endorphins are natural feel-good chemicals that create a sense of pleasure and happiness. This is why people turn to chocolate when they're feeling down or stressed.
Serotonin Boost: Chocolate contains substances that can increase serotonin levels in the brain. Serotonin is a neurotransmitter that plays a role in regulating mood and can help improve feelings of well-being.
Magnesium content: Some individuals may crave chocolate because it contains magnesium. Low magnesium levels in the body have been associated with chocolate cravings, and consuming chocolate may provide a quick magnesium boost.
Hormonal fluctuations: Hormonal changes during the menstrual cycle can affect food cravings, including a preference for chocolate. Some women may experience heightened chocolate cravings in the days leading up to their period.
Psychological comfort: Chocolate is often associated with comfort and reward. People may turn to chocolate in times of stress, sadness, or as a form of self-soothing.
Habit and conditioning: Over time, we can develop a conditioned response to certain foods, including chocolate. If you've historically reached for chocolate in specific situations (e.g. while watching TV), your brain may develop a habit of craving chocolate when in those situations.
It's essential to remember that while chocolate can be a pleasurable treat, moderation is key, especially if you're trying to maintain a balanced diet. If your chocolate cravings are interfering with your overall health or dietary goals, consider healthier alternatives or strategies to manage these cravings. Additionally, if you find that your chocolate cravings are intense or frequent and are causing you distress, it may be a good idea to consult a healthcare professional or registered dietitian for personalised guidance and support.