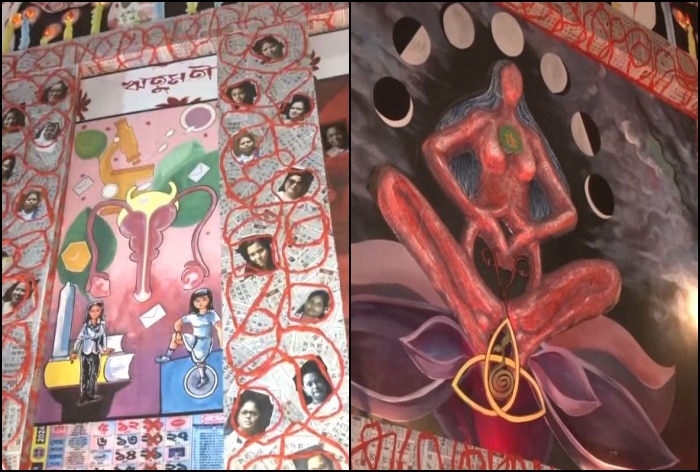 The city of joy is all set to welcome Maa Durga. every year unique themed pandals are decked up in a bid to outshine one another. This year, a pandal in Kolkata is breaking taboos with uniquely designed menstrual hygiene themed decor and how!
It's time to welcome Maa Durga in full glory and pomp and show. Pandals are almost ready, homes are decked up, as Durga Puja celebrations are about to begin. Navratri is a nine-day long festival where it is believed that Goddess Durga comes home. Everyday is dedicated to a different avatar of hers. In West Bengal, this festival is celebrated as Durga Puja. Every pandal is based on a unique theme. This time a pandal in Kolkata is all set to break the shackles of age old taboos.  The Durga Puja pandal of 'Pathurighata Pancher Palli' in Kolkata is breaking boundaries and a few taboos surrounding menstruation with its Menstrual Hygiene-themed pandal this year. Yes, you read that right.
"The Puja Pandal has been made in an attempt to reflect on the issue of menstrual hygiene and social awareness. This is the 84th year of the puja," said Ellora Saha, Working President of 'Pathuriaghata Pancher Palli Sarbojanin Durgotsab' committee, who is the key person behind the idea.
Why is this important?
Menstruation is often shrouded with taboos. People in rural areas are till date ashamed to talk about it openly. While the notion is still getting normalised in several places and cosmopolitan cities. However, there are nooks where it is contemptuously looked at. In order to come of it shackles, Saha has come up with a menstrual-themed pandal idea.
To stop the world from seeing menstruation as taboo, "we have chosen the theme of menstrual hygiene, or 'Ritumati', and we are definitely looking forward to how they present this thoughtful idea," Ellora Saha said speaking with ANI. "Menstruation is a normal biological process, and there is no need to keep it under any kind of curtain. This is high time we break the taboos, and the first step will be to bring such issues to the fore," she said.