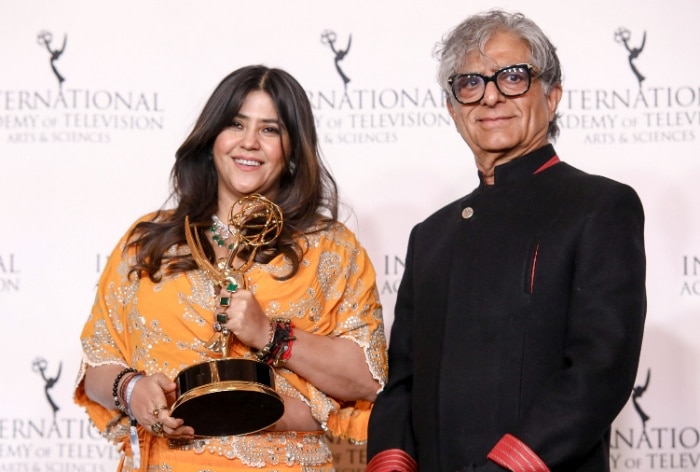 Ektaa R Kapoor, producer and entrepeneur, becomes the first Indian woman filmmaker to receive an International Emmy Directorate Award. Congratulations pour in.
New York: Ekta Kapoor was one of the proud recipients of an award at this year's International Emmys. The popular producer created history on the platform as the first Indian woman filmmaker to have received an award at the Emmys. Ektaa won the 'International Emmy Directorate Award' at the 51st International Emmys in New York on Tuesday (IST). She was presented with the award by author Deepak Chopra for her contribution to the TV industry.
Dressed up in orange-coloured separates, Ekta expressed her excitement over the winning. She said she was having jitters and didn't know how to fully savour the big moment in her journey to becoming the czarina of the TV content world. She said, "I am delighted to receive the prestigious Emmys Directorate Award! It brings me immense joy and happiness to be honoured at a global scale, such as this.
I've always wanted to tell stories because they give me a chance to be heard, seen and represented. I am grateful for the audience's love that has opened doors for me, allowing me to transition from television to the world of films and OTT."
Ekta, who is known and regarded as the 'daily soap queen' in India, said she wanted to be a bridge between the audience's wishes and the production world. The producer added every story she has told so far reflects her love for content and how much she wants to give back to her audience. "Each story that I told became a bridge to connect with audiences on many levels. The unexpected turns this journey took are a testament to the power of love showered by the people of India and beyond. My heart is filled with gratitude, and a stronger resolve to make a positive impact through my work for audiences (sic)," she said.
The International Emmy Directorate Award comes two years after she won the Padma Shri for her contribution and excellence in the field. Ekta is celebrated as the woman behind TV evolution in India with 17,000+ hours of television content and 135+ TV shows. She has also got 50+ feature films to her name. The producer has reportedly made a 600 million-dollar industry with 80 per cent women leading it and has created 2 Million jobs directly impacting more than 7.2 Million homes across India.
Congratulations to her, her fans, family and the team!