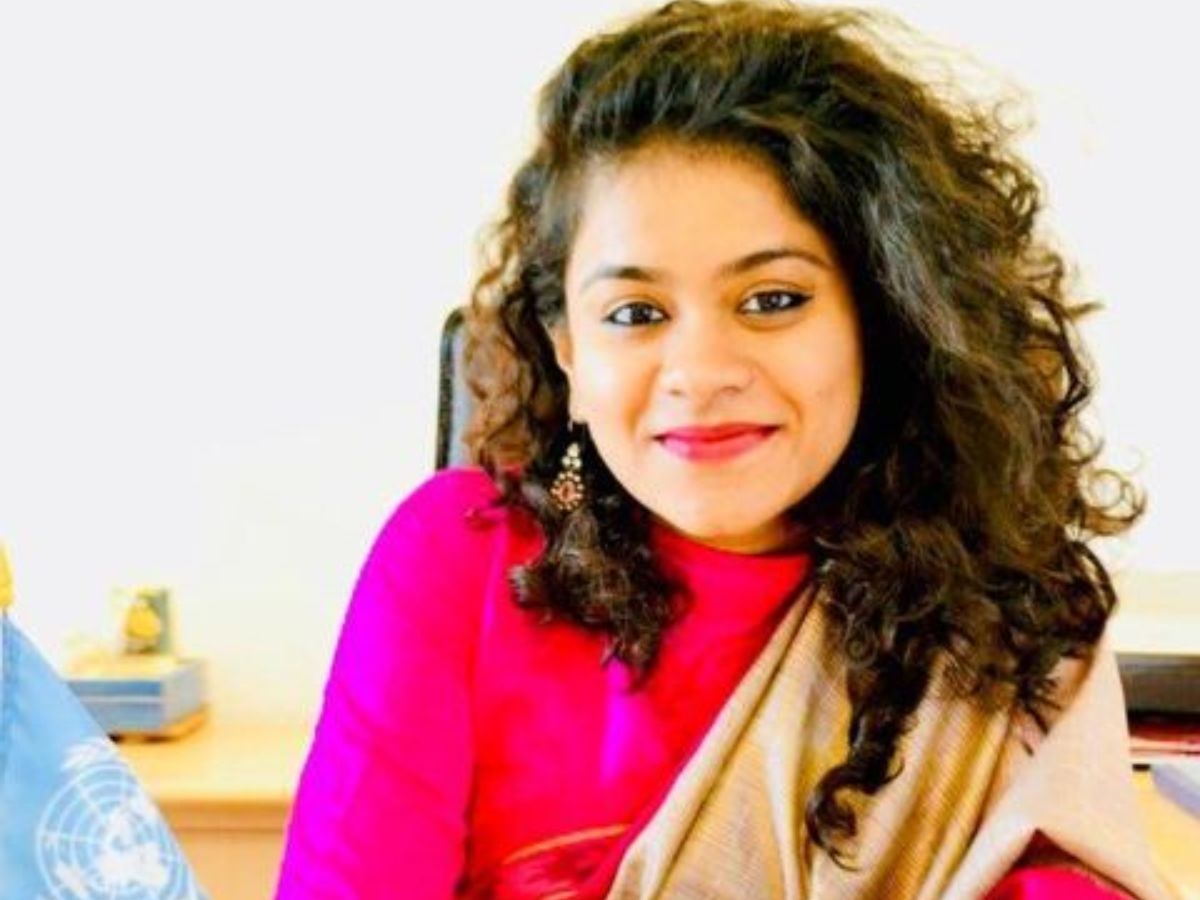 UN Women Head Of Office, Nishtha Satyam exclusively speaks to India.com and discusses India's position in terms of Women Empowerment and Gender Equality and how women and children are disproportionately affected in wars among other things..
New Delhi: Nishtha Satyam, an Indian diplomat who is currently serving as the Head of Office for UN Women in Timor Leste. Recognised by Time as part of the prestigious '40 Under 40 List', Nishtha is one of the youngest women to head a country office for UN Women amongst 193 countries and is part of the entity of United Nations that is dedicated to working towards Gender Equality and Women Empowerment. Nishtha Satyam is an unapologetic feminist, a trained economist with a keen interest in applied macroeconomic and fiscal policy.
In an exclusive conversation with Ananya Srivastava of India.com, Nishtha Satyam spoke about India's position in terms of Women Empowerment and Gender Equality, the successful parts and aspects we still have improve on, how women being a 'prestige symbol', are the softest targets during war, how gender bias has been engrained in us since childhood and what we, as women must do everyday, despite being targeted or questioned for being 'feminists'. Excerpts from the conversation..
1. India has various policies that uplift women and help them stand on their own feet. According to you, how far has our nation come in terms of Women Empowerment.
Sometimes, it completely takes me by surprise to speak of India as one monolithic country because look at our diversity, the number of states we have, the languages, the social-cultural realities which have actually shaped women's lives. We often talk about lives in isolation with culture, social-political status but that is not how lives actually function. Where you are, determines a lot of what your life is and so, an Delhi-based urban woman is not the same as a woman from Mizoram and she is not the same as a woman from South India because our cultural realities are very different. Therefore, to give a composite picture of India, to my sense would not be true but nevertheless, we have made great strives and I have always said this.
For a country as big as ours, as culturally-rooted and diverse as us, we have celebrated women in so many ways through mythology and other ways that the western world has not seen. Even in terms of leadership, we had the first woman Prime Minister so many years ago when this was not even appreciated; we have largest number of people in grassroot politics and thats by choice, not just affirmative action. These are tremendous positions of power that women have held in the country. Now when ISRO launches a rocket, you assume that women are behind it. The fact that you and I are able to sit and talk about gender equality, is a mark that this conversation has found a fertile soil.
2. Are we a 'Gender-Equal' Country? Where do you think we need to give special focus to empower our women?
Undoubtedly, India has made tremendous strives but have we solved 'Gender Equality' and can we say we are a 'Gender-Neutral' country? No, we cannot and neither can any country of the world. We still remain socio-politically rooted, violence against women still remains a 'hot topic' (if I can say) for India but when you put yourself with the rest of the world, there are countries who are talking about a feminist foreign policy but there are very few women talking about women-led development. There is magic in that word because it is not women 'for' development, it is not women 'in' development, it is women-led development which means that women take centre-stage to take us forward towards being a superpower and this differentiates us from the rest of the world.
What also differentiates us from the rest of the world is women remain treated poorly in the household, within marriages and relationships. Nobody is a fully feminist country, we are not a completely patriarchal country, we are making progress but even today, so much needs to be done in terms of mindsets. We are a paradox in many ways, economically, in terms of gender also.
3. As an advocate of Gender Equality, how do you think the Gender Bias is engrained in us, how did you realise the pattern and make changes?
I think one realises the pattern all through their lives but they just do not know it is a 'gender bias'; you'd know life is different for you in comparison with someone else, relationships are more difficult for you than the boy. These are things you notice all through your life, you know that when you are successful things are more difficult for you but its not the same for successful men. It is said the successful women have nobody because the world doesn't really like women being successful. You know the bias as you grow up but it takes time for you to get to a point where you put 'language' to it. The Women's Movements across the world, they gave a banner to the pressure; its not something you're feeling but your mothers or their mothers didn't, its just that we today realise that this is not business as usual, it is not the way the world functions and that this is a problem.
The fundamental difference between our generations and the previous generations is that now when we look at Gender Bias, we don't think its a problem, we believe we don't need this, its not required. The fact that gender inequality is terminable or gender equality is achievable, has changed a lot.
4. Women Safety has been a big issue in our country and the ever-rising cases of rapes and harassment are not hidden from anyone. How do you think we can improve in that aspect?
When we say increases in crime, we must be careful in also reading increasing in crime; increases in crime can be increase in absolute crime but it can also be increase in reporting. If it is the latter, then it isn't necessarily a bad thing and it just means that women are speaking up, recognising their rights more; so these are two different things. When we read data, we must read it carefully before making an assumption that it points to a problem. It does point to a problem but does it also point towards an increase in the problem, we must understand that.
Safety and mobility is a prerequisite, people don't perform well in environments of fear; so if I have to go out, I have to think about how is my cab driver driving, will I reach home safely. People do not understand that there is a cost to this safety; your parents, family, friends, husbands and boyfriends are worried when you are out. And if everyone is worried if you are out, it is a problem and it is a collective price to the society as a whole.
Also, we must understand that safety has many aspects to it; it has you and me, it has men, transport, law enforcement and safety has mindset. The prerequisite of safety is that women own public space, you have the right to be in a public place, in a bus alone or the right to choose where and when you want to go. When we talk of safety, we talk of surveillance; it is important for us to pick the conversation and say it is my right to go in a public space, like men do without fear and feel safe.
5. As a UN Representative, we would like to know your opinion on the consequences of war, especially the Israel-Hamas Conflict where women and children are the worst affected.
Well firstly let me just clarify, politically, I guess this is no longer the Israel Hamas War, it has now become an Israel Occupied Palestine War; this political correction is important for us to place the conflict well. I work in a post-conflict situation myself in Timor Leste, in any war, women and children are disproportionately affected, their demands, safety concerns and needs are disproportionate, the terrors they face our disproportionate. Women and children are easy targets and easy weapons of war, easy human shields. There's more threat to life and dignity; women are most disproportionately affected. There are women who are pregnant and are carrying babies, women who are menstruating- their needs in a war situation are completely sidelined. Even after wars, women are most affected as they are the worst remnants of war; they remain alive, malnourished, without information about their families; its women who grieve together post war. It is also about post-war who live with the loss and trauma and women are affected more than children as they do not garner as much sympathy.
6. According to a recent report, close to 100 UN staff have lost their lives in the ongoing war. What do you have to say about it?
Yes, its very unfortunate. Its a moment of great sobriety and my heart breaks as a UN Women person, to see the loss of colleagues who served a war; which was just the decision of two nations and you see the whole world is on fire. This is what the UN does, 'we stay and serve' and we will continue to serve; we served in Afghanistan, we serve in Gaza and anywhere else such a situation arises.
7. Recently, in India, the Women Reservation Bill has been passed granting greater representation to women in the Parliament. How do you see this step?
I think women representation in Parliament, anywhere in the world is the biggest step a country can take because it is the highest court of decision-making, the highest court of setting national discourse and debate. I think women in general, improv the quality of any debate and bring in to it, the lived experiences of their lives. Very famously it was said, If you have to get anything done, ask a woman. They rightly belong to the parliament and this is a substantive step, directly in the line of Gender Equality. In terms of intention perspective, ten-on-ten and one is hopeful that this 'intent' is turned into 'action' and there will be more barriers set.
8. To all the women who are reading this, what is it that you would like to say to them? 
My one message to women, that also changed my life, is 'Make a Choice', make a 'Fearless' choice. Unfortunately, we are still not in a world where we will make a choice and it will have no repercussions; it costs us personally, it costs us push-back, people don't like us, we are definitely not 'perfect' because we are jolting patriarchy. So should we still do it, we must. We must do it for other women, we must do it for the women ahead of us, we must do it for the men. The only difference between men and women are that we are in cages and they are in 'golden cages'; so we must free them from stereotypes as well.
Therefore, we must make a personal, individual, bold and fearless choice; its not always going to be pleasant and you will not be applauded for being a feminist. You are going to be hated, you are going to be frowned but its okay because you are doing it for the right reason. Yes, its difficult but be proud of yourself and pick the battle. Its a personal battle that we have to win for ourselves and for the women who come after us. Make the choice that it takes so much away from me but I am still going to do it because it is the right thing to do and equality is a great goal to pursue.