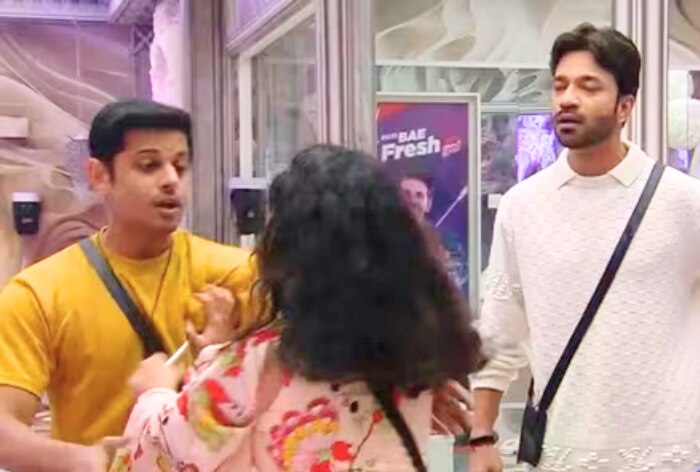 In the latest edition of Big Boss 17, husband-wife duo Neil Bhatt and Aishwarya Sharma start a fiery argument that escalate the matter between the two parties. This is what happens next…
Bigg Boss 17: In the latest episode of Bigg Boss 17, a fiery argument between husband-wife duo Neil Bhat and Aishwarya Sharma turned matters worse at the BB's House. The couple quarrelled over a miscommunication, rattling about groceries, with both of them shouting at the top of their voices. The debate escalated between the two calling 'Tu Pagal…. Shut Up…'. What started as a misunderstanding between the two ended in an ugly argument. It happened when Neil Bhatt, Ankita Lokhande, Isha Malviya, and Aishwarya Sharma decided to keep aside some groceries.
Aishwarya approached her husband with a handbag when Neil's hand was already carrying things and that made it all worse. This is not the first time that the duo has been in a heated argument on air. At BB's house, it was easy to spot the two parties having a verbal exchange.
Here's how Neil Bhatt and Aishwarya Sharma argued:
Finally #NeilBhatt asked Aishwarya, " what is wrong with you."

After fighting with #AnkitaLokhande & #VickyJain now she is after Neil 🤯#BiggBoss17 #BiggBoss #BB17 #AishwaryaSharma pic.twitter.com/GHmoFe9bi9

— #BiggBoss17_Tak (@BiggBoss17_Tak) November 6, 2023
As the fight between the two broke out, Aishwarya said "You can't see when I am saying something?" Neil Bhatt was devasted by his wife's reply, he said: "Can't you see my hands are full?" Aishwarya further called her husband "Pagal' and added that he "lost his senses." Neil on the other side tried his best to control the argument between the two. He asked her, "to calm down and talk". Nonetheless, both parties screamed at the top of their lungs. At the Big Boss house, the couple was again seen having heated debates "Don't shout at me". Aishwarya said "Shut up" and Neil responded, "You keep screaming all the time, I am not here to listen to you. Get lost."
Bigg Boss 17: Neil-Aishwarya's Fights From The Past
The pair has previously engaged in a heated fight during one comparable contention. When Aishwarya decided to play a solo game, she didn't back down. Throughout their ongoing argument, Neil referred to Aishwarya as "Babu chup." "Shut your mouth," Aishwarya commanded, gesturing with her finger at him, adding, "I don't have to be silent. I listen to no one, as you are aware." But a little while later, Neil arrived and hugged Aishwarya as she sobbed.
Aishwarya, Neil, and Ankita-Vicky got into a heated argument too. Following this, the couple argued once more. "He is not understanding," Aishwarya informed him. "Aur saheli ban," Neil responded, adding, "Fight with anyone you want to, don't get me involved." He then assured her that she was free to do as she pleased.
Do you like it when these guys fight in the show? Whose side are you generally on between Neil and Aishwarya? Watch this space for all the latest updates on Bigg Boss 17!