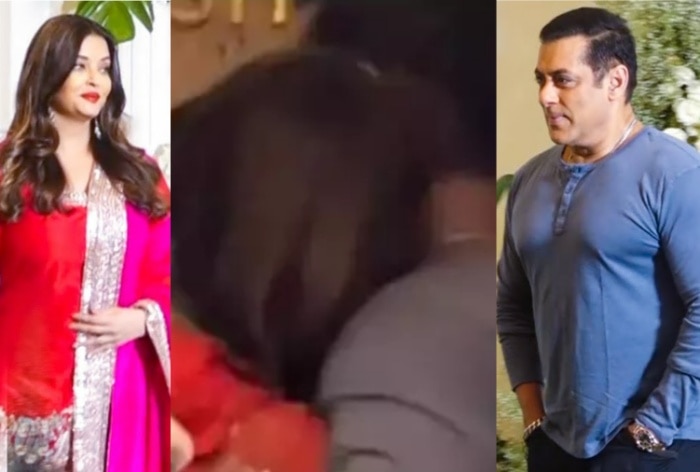 Salman Khan and Aishwarya Rai Bachchan seem to have buried the hatchet at the Manish Malhotra Diwali party and the fans are going crazy on the internet. Here's the truth behind the viral photo.
Mumbai: A new photo from Manish Malhotra's Diwali party has created a storm on the internet. One look at it and seems like Salman Khan and Aishwarya Rai are hugging each other at the party. Netizens couldn't believe their eyes when the photo first appeared on the internet and sent everyone into a tizzy. Both Salman and Aishwarya were present at the party that happened on Sunday evening at the designer's house in Mumbai. The two people spotted in the photo look like Salman and Aishwarya with one dressed casually in a grey T-shirt and the other one in a bright red/ pink suit.
The photo made the fans sit up and notice. A section of the fans also tagged filmmaker Sanjay Leela Bhansali, requesting him to immediately seize the moment and make 'Hum Dil De Chuke Sanam 2'. Many of the fans highlighted how big this was and left comments like 'seen everything' on the photo. Someone also commented: "bro this is surprising and scary…" The photo has definitely made everyone go through an unprecedented moment of 'what just happened'. However, the truth is something else.
Check The Viral Post That Makes Fans Think Salman Khan and Aishwarya Rai Hugged Each Other:
Now, while our hearts our breaking as much as yours to hear this, the truth of the photo is something else. While the man in the photo is indeed Salman, the woman is not Aishwarya (like how could anyone even think of the possibility of these two coming together!).
The photo is from Manish Malhotra's party that happened on Sunday. Both Salman and Aishwarya were present at the house party and also tried to maintain their distance at separate times and hanging out in separate groups, the photo tells another story. The woman in the photo, wearing the same colour as Aishwarya, is Sooraj Pancholi's sister Sana Pancholi. Knowing Salman and how much he is fond of the Pancholis, he just took a moment to greet the girl and moved out of the party.
Bubble busted? Yeah, ours too!
Meanwhile, Salman will be seen back on the big screen with his grand Diwali release on Sunday. The actor has teamed up with Katrina Kaif for Tiger 3 and the film is hitting the screens on November 12. The advance booking shows a good number and the festivities will only add to it. Watch this space for all the latest Box Office updates on Tiger 3!