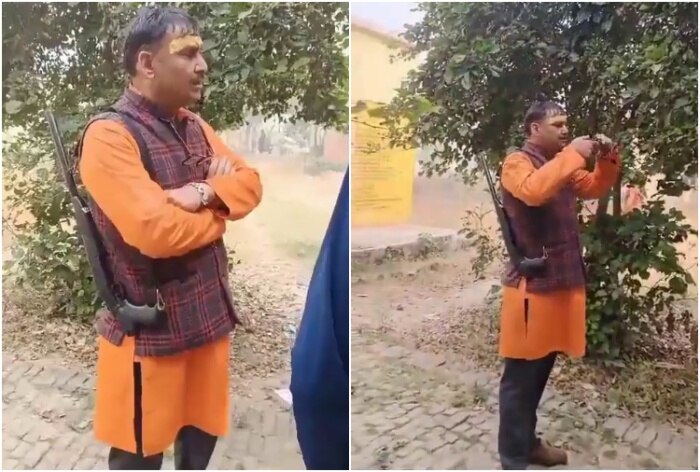 Principal Dharmendra Kumar Sharma, carried a gun to a primary school in UP's Aligarh and hurled abuses at locals when confronted.
Aligarh Viral News: A primary school principal was confronted by locals after he was seen carrying a gun to the school in a village of Aligarh district in Uttar Pradesh. A video of the incident which has gone viral on social media platforms showed the principal walking into the school premises with a shotgun hanging on his shoulder.
According to reports, the principal, Dharmendra Kumar Sharma, carried a gun to the school and hurled abuses at locals when confronted. The video showed Sharma being confronted by villagers and defending his action claiming that he carried the weapon for his "safety".
Villagers also alleged that Sharma resorted to hurling abuses at them when questioned why he carried a gun to a primary school.
Watch the viral video here:
कंधे पर टंगी बंदूक़ देख बंधुवर को बाहुबली या अपराधी ना समझियेगा, भाईसाहब अध्यापक हैं… और अपनी सुरक्षा को लेकर थोड़ा चिंतित है। इसीलिए स्कूल परिवार ने बंदूक़ लेकर घूम रहे हैं।

बस इत्ती सी बात है, बाक़ी गुरु जी बेहद मासूम हैं।

वीडियो अलीगढ़ का बताया जा रहा है। pic.twitter.com/wd7qqlCclR

— Ashutosh Tripathi (@tripsashu) November 7, 2023
In the undated video, villagers are seen confronting the principal after he came to school with a long-barreled gun around his shoulder. The principal defended his actions, saying that he had carried the firearm for safety.
The video sparked outrage among locals in the village who demand strict action against the erring principal.
The sarpanch (village head) also accused Principal Sharma of spending too much time spellbound by his mobile phone while not paying any attention to his duties as an educator.
Meanwhile, authorities said they have taken cognizance of the incident after the video went viral on the internet and a detailed probe is being conducted into the incident.
An official said district education officer Rakesh Singh Nar visited the school after receiving information about the incident.
Nar, while confirming the authenticity of the incident said the District Magistrate (DM) had been informed about the matter.
He said a detailed report will be submitted to the DM and strict action will be taken against the principal if found guilty.