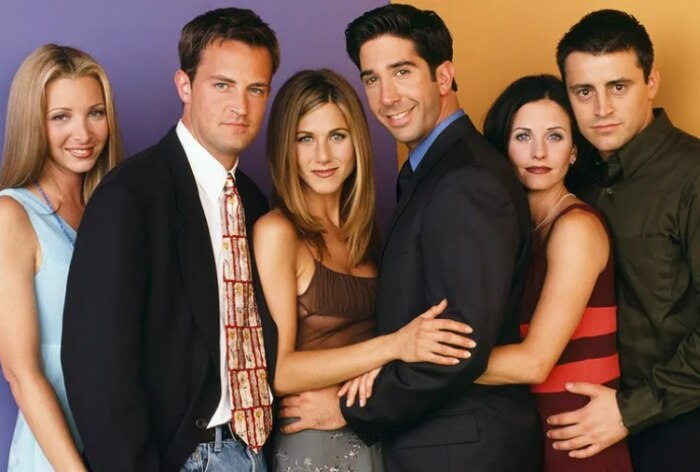 FRIENDS cast including Jennifer Aniston, Courtney Cox, Lisa Kudrow, Matt LeBlanc and David Schwimmer share a joint statement three days after their dear friend, Matthew Perry who played the role of Chandler Bing, died at his house.
Los Angeles: FRIENDS star Matthew Perry left many hearts broken with his untimely death on Saturday, October 28th at his house in Los Angeles. The actor who played the role of Chandler Bing was 54 when he took his last breath and now, three days after his death, his co-star from the show released a joint statement on the news. The late actor always found a family in his co-stars Jennifer Aniston, Courtney Cox, Lisa Kudrow, Matt LeBlanc and David Schwimmer – all of whom played the iconic characters in the legendary sitcom that ran for over 10 years.
In their statement shared with PEOPLE magazine, the actors maintained that they are devastated and finding it difficult to fathom that one of their own isn't here anymore. The statement further mentions that none of them is able to deal with the news and they aren't able to express the magnitude of the loss right now. "We are all so utterly devastated by the loss of Matthew. We were more than just cast mates. We are a family. There is so much to say, but right now we're going to take a moment to grieve and process this unfathomable loss," reads a part of the statement.
The official statement from the FRIENDS lead cast goes on to read like, "In time we will say more, as and when we are able. For now, our thoughts and our love are with Matty's family, his friends, and everyone who loved him around the world (sic)." This is not the pain one can deal with easily and it seems like the entire world will take time to heal from the loss of Matthew Perry, the one who made us laugh, taught sarcasm, inspired by his struggle with alcohol addiction and gave us plenty of moments to always find peace in who we are even when we are at our most awkward self with a crazy past.
Earlier, Daily Mail revealed in a report that Matthew's co-star Lisa Kudrow, who played the role of Phoebe Buffay, is considering adopting his beloved dog Alfred. "Kudrow has been left 'baffled', by his death and is considering taking in his beloved dog Alfred. "Lisa and [the] cast will all be attending his services," said the report.
Matthew was 21 when he first realised that he was addicted to alcohol and drugs. It was during the shoot of FRIENDS that he kept making trips to rehab but always found his way back to the addiction. During all this time, his family-like co-stars stood by him and helped him with his condition. A report in Page Six said, "The entire cast is close, they will be devastated because they were together through the best of times and worst of times. And when Matty was sick, they protected him, they looked after him fiercely."
The police continue to investigate the death case. Matthew's funeral will take place soon after the cops give the go-ahead. We will miss you, Bing!