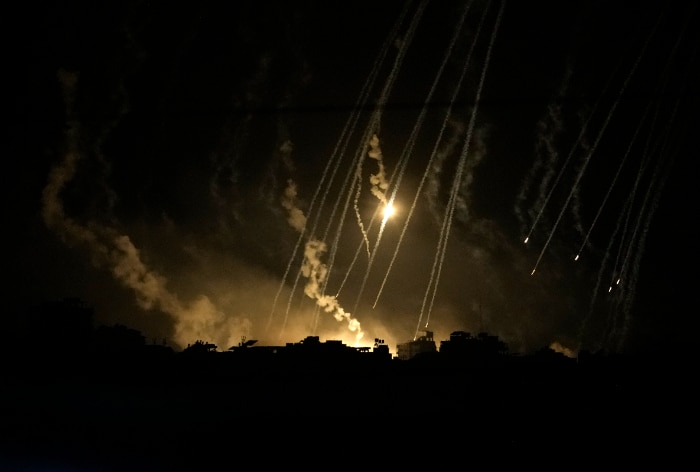 Israeli troops were "shooting at anyone outside or inside the hospital," and prevented movement between the buildings in the compound.
DEIR AL-BALAH, Gaza Strip: Israel's prime minister pushed back Saturday against calls from Western allies to do more to protect Palestinian civilians, as troops encircled Gaza's largest hospital where doctors said five patients died, including a premature baby, after the last generator ran out of fuel. Israel has portrayed Shifa Hospital as Hamas' main command post, saying militants were using civilians as human shields there and had set up elaborate bunkers underneath it – claims Hamas and Shifa staff deny. In recent days, fighting near Shifa and other hospitals in the combat zone of northern Gaza has intensified and supplies have run out.
"There is no electricity. Medical devices stopped. Patients, especially those in intensive care, started to die," said Mohammed Abu Selmia, the director of Shifa, speaking by phone over the sound of gunfire and explosions.
Abu Selmia said Israeli troops were "shooting at anyone outside or inside the hospital," and prevented movement between the buildings in the compound.
The claim that Israeli troops were the sole source of fire could not be verified independently.
Asked about reports of troops firing into the Shifa courtyard, the Israeli military would only say that troops are engaged with fighting Hamas in the vicinity and take all feasible measures to prevent harm to civilians. It said soldiers have encountered hundreds of Hamas fighters in underground facilities, schools, mosques and clinics during fighting in Gaza.
At Shifa, five patients died after the generator shut down, including a premature baby, said Medhat Abbas, a spokesman for the Health Ministry.
Prime Minister Benjamin Netanyahu said the responsibility for any harm to civilians lies with Hamas, repeating long-standing allegations that the militant group uses civilians in Gaza as human shields. He said that while Israel has urged civilians to leave combat zones, "Hamas is doing everything it can to prevent them from leaving."
His statement came after French President Emmanuel Macron pushed for a cease-fire and urged other leaders to join his call, telling the BBC there was "no justification" for Israel's ongoing bombing.
Following Hamas' deadly Oct. 7 attack on Israel, in which at least 1,200 people were killed, Israel's allies have defended the country's right to protect itself. But now into the second month of war, there are growing differences in how many feel Israel should conduct its fight.
The U.S. has been pushing for temporary pauses that would allow for wider distribution of badly needed aid to civilians in the besieged territory where conditions are increasingly dire. However, Israel has so far only agreed to brief daily periods during which civilians are able to flee the area of ground combat in northern Gaza and head south on foot along the territory's main north-south artery.
Since these evacuation windows were first announced a week ago, more than 150,000 civilians have fled the north, according to U.N. monitors. On Saturday, the military announced a new evacuation window, saying civilians could use the central road and a coastal road.
On the main road, a steady stream of people could be seen fleeing southward, clutching children and bags of belongings, many on foot and some on donkey-drawn carts. One man pushed two children in a wheelbarrow.
Tens of thousands more remain in northern Gaza, many sheltering at hospitals and overcrowded U.N. facilities.
Palestinian civilians and rights advocates have pushed back against Israel's portrayal of the southern evacuation zones as "relatively safe," noting that Israeli bombardment has continued across Gaza, including airstrikes in the south that Israel says target Hamas leaders, but that have also killed women and children.
The U.S. and Israel also have diverging views on what a post-war Gaza should look like. Netanyahu and military leaders have said this needs to be dictated solely by Israel's security needs, such as ensuring no threats emerge from the territory. Israel has said a key goal of the war is to crush Hamas, a militant group that has ruled Gaza for 16 years.
Secretary of State Antony Blinken, speaking to reporters Friday during a tour of Asia, laid out what he said were fundamental principles for a post-war Gaza, some of which seemed to run counter to Israel's narrow approach.
Blinken said these principles include "no forcible displacement of Palestinians from Gaza, no use of Gaza as a platform for launching terrorism or other attacks against Israel, no diminution in the territory of Gaza, and a commitment to Palestinian-led governance for Gaza and for the West Bank, and in a unified way."
Saudi Arabia hosted Muslim and Arab leaders in Riyadh on Saturday with the aim of devising their own cohesive strategy on Gaza. Initially intended to be two separate gatherings, the country decided to merge them into one to expedite the process in response to the escalating violence, according to the Saudi Foreign Ministry.
FIGHTING AROUND HOSPITALS
Concern has grown in recent days as fighting through the dense neighborhoods of Gaza City has come closer to hospitals, which Israel claims are being used by Hamas fighters.
Thousands of civilians had been sheltering in the Shifa compound in recent weeks, but many fled Friday after several nearby strikes in which one person was killed and several were wounded.
Abbas, the Health Ministry spokesman, told the satellite television channel Al Jazeera that there are still 1,500 patients at Shifa, along with 1,500 medical personnel and between 15,000 and 20,000 people seeking shelter.
"The complex now lacks food, water and electricity," he said. "Intensive care units have stopped working."
Thousands have fled Shifa and other hospitals that have come under attack, but physicians said it's impossible for everyone to get out.
"We cannot evacuate ourselves and (leave) these people inside," a Doctors Without Borders surgeon at Shifa, Mohammed Obeid, was quoted as saying by the organization.
"As a doctor, I swear to help the people who need help."
The organization said other doctors reported that some staff had fled to to save themselves and their families, and urged all hospitals be protected.
CASUALTIES RISE
More than 11,070 Palestinians, two-thirds of them women and minors, have been killed since the war began, according to the Health Ministry in Hamas-controlled Gaza, which does not differentiate between civilian and militant deaths. About 2,700 people have been reported missing and are thought to be possibly trapped or dead under the rubble.
The Hamas-run Interior Ministry said six people were killed early Saturday in a strike on the Nuseirat refugee camp that hit a house. The camp is located in the southern evacuation zone.
At least 1,200 people have been killed in Israel, mainly in the initial Hamas attack, and 41 Israeli soldiers have been killed in Gaza since the ground offensive began, Israeli officials say.
Nearly 240 people abducted by Hamas from Israel remain captive.
About 250,000 Israelis have been forced to evacuate from communities near Gaza and along the northern border with Lebanon, where Israeli forces and Hezbollah militants have traded fire repeatedly.
(By WAFAA SHURAFA, SAMY MAGDY and DAVID RISING Associated Press. Magdy reported from Cairo, Rising from Bangkok. Associated Press writers Julia Frankel in Jerusalem and Baraa Anwer in Riyadh, Saudi Arabia, contributed to this report.)