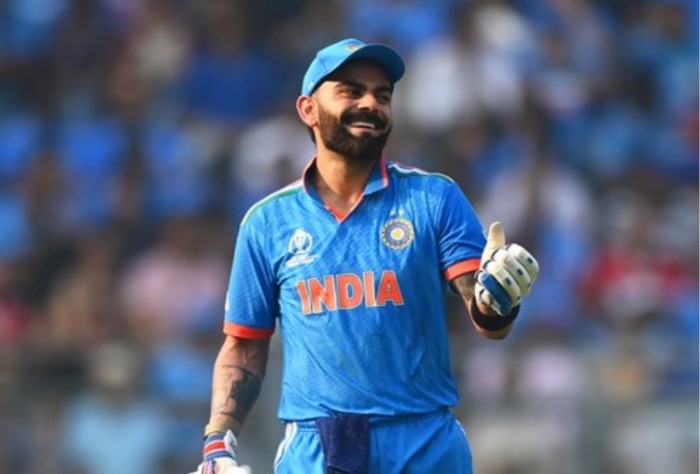 Former Indian captain Virat Kohli will turn 35 on November 5 during India's ODI World Cup 2023 match against South Africa.
Dear Virat Kohli,

Today is your 35th birthday, and you have inspired me and millions of people across the world like no one ever has. Since my childhood, I have considered you one of the greatest cricket players of all time, and there's no doubt about that.
You have broken many records, won matches for your nation and your favourite franchise Royal Challengers Bangalore (RCB), and inspired millions of people around the world. But more than that, you're a role model for many youngsters. You are someone who shows us what it means to be passionate, dedicated, and hardworking.
I have been following your career since you made your India debut against Sri Lanka in Dambulla. Since then, I have seen you grow from a young and aggressive cricketer to being recognised as one of the legends of the game.
Also, you are a global icon because of your passion and dedication to cricket. I have also seen you go through some tough times, both personally and professionally. But the best thing about you is that you've always come out stronger on the other side and shown your best side every time you fail.
One of the best things about you that I admire most is your work ethic. You are always striving to improve your game. You are always practising hard and putting in the extra hours. This is what sets you apart from other cricketers.
You are also a great leader. While leading the Indian cricket team across three formats, you have led your side to many memorable victories over the years. But my favourite memory was when you crushed Australia on their own backyard in the Border Gavaskar Trophy in 2018.
Virat Kohli-led Indian side won their first Test series against Australia in Australia in 2018.
From leading India to famous Boxing Day Test victory in Melbourne in 2018 against Australia to winning against England at Lord's in 2021, you have given us many memorable moments to cherish. You are also a role model for the younger generation of cricketers. You show them what it takes to be successful at the highest level.
India registered a famous win at Lord's against England in 2021 under Virat Kohli.
As you step into the next phase of your life, there will be many tough challenges and transitions you will go through, but this is what makes you the best, as every time you have a challenge, you come out on top. Another great thing about you is that you have a selfless character. Your decision to step down from the T20I captaincy and then relinquishing leadership from all formats of the game showcased that you are a selfless team player, and that is a testament to your self-awareness and commitment to the team's best interests.
Virat Kohli was the Indian captain from 2014 to 2021.
Cricket has witnessed many legends, but what sets you apart is not just the runs you've scored or the records you've broken. It's the emotions you've stirred, the inspiration you've provided, and the sense of pride you've instilled in every Indian cricket fan. Your journey is a saga of resilience, determination, and the relentless pursuit of excellence.
I wish you all the very best in the ODI World Cup 2023. You are the best batter of all time, and I know that you will help India win many matches in the tournament. We are all very confident that you will continue to break records and make history in the tournament. I can't wait to see you lift the trophy for the second time and bring it home on November 19 at Narendra Modi Stadium in Ahmedabad.
The Indian batter has amassed 442 runs in seven matches in the ODI World Cup 2023 tournament.
I am so proud of you, Virat Kohli! You have become an inspiration to us all. On your 35th birthday, I want to wish you all the very best, and may you have all the success in your life. I hope that you continue to have a long and successful career. Also, give me more memorable moments in the field, as I love your funny and aggressive side. But more than that, I hope that you continue to be the most amazing person you are.
Happy Birthday, Virat! May your legacy continue to shine brightly, like a beacon of inspiration for cricket enthusiasts worldwide.