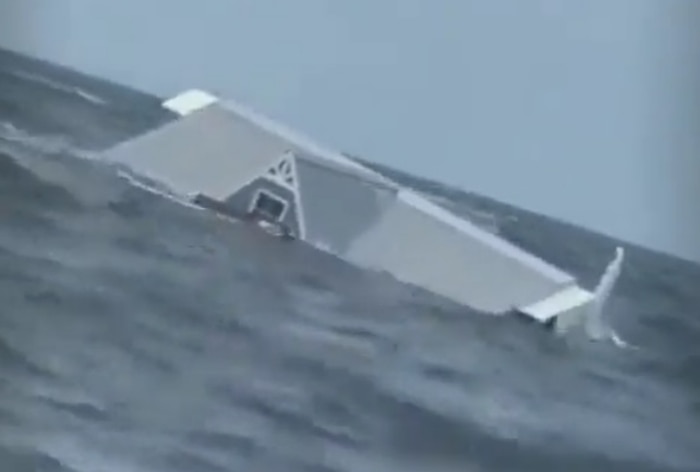 In the modern age, with the advent and improvement of the means of sea travel, it is now much easier to sail across the stormy seas.
Floating House: In ancient as well as medieval times people would take on journeys through the oceans in search of treasures, gold, new lands, and people. Many of them were successful in their endeavours. In the modern age, with the advent and improvement of the means of sea travel, it is now much easier to sail across the stormy seas. The viral video we are sharing here shows a mid-size sea vessel in the middle of the ocean and it comes across a house that is floating just at a small distance.
The video is shared on X by Wow Terrifying @WowTerrifying with the caption: 😳😳
Watch The Video Here
— Wow Terrifying (@WowTerrifying) October 28, 2023
That is really strange and unbelievable as well since it defies logic as to how a house could land in the sea and be spotted floating right in the middle of the sea.
Nevertheless, you can expect the most absurd things to happen around you as it has happened many times before and it is going to be happening in the future as well.
The video has received a good number of comments. Sharing a few with you.
Shaun G @ShaunXGriffith: That belongs to SpongeBob and the gang now
Chris @Karma_Bull: "fire alarm beep*
JkvsWorld @JkvsWorld: 500k ocean view as is, cash deal
Daniel Kempe @danielkempe: Needs more balloons 🎈
Take Take Bengek @taketakebengek: He just ordered it
david bowmaker @davidlbowmaker: Still couldn't afford it
Wr03Gaz @Wr03Gaz: Up has finally come down
🇸🇦 Free life 🕊️ @free_69_life: يمكن طالعين يتمشون
Arhaan Rohan @bongwhobongs: It's hard but now doesn't look impossible to find.😜
David J @d_jooste: House Boat.
YappersToRiches @Frugal_SZN: houses expensive so I tried using Pandabuy
just living @LoganWi11414474: Live action lego movie
Gnarlonyus @gnarlonyus: DO NOT ACKNOWLEDGE THE HOUSE
Mahi_1-7 @Zenitsu_171: Up&Down
Alexis @Alexis16390738: Oops
Baski @notbaski: spongebob got a new crib
Simplicity is truth @SimplicityTruth: mr beast failed video
Kristjan @Kristja_n: I`m more interested who build it, good job.
ToxicNub @Someone36656998: It's the only up house , the balloons lost the air
Pennies @brentrades: Still costs $578,000 and sold as is
John Hruska @johnhruska01: Still couldn't afford it. Lol
Quantum Yada Yada @Qyadayada: Leave this house alone. It belongs to Devi Jones
TmcNasty @TmcNasty: Hope they have flood insurance.
Antoine @anto93110: But who could live there?
Paul F @brain_of_jfk: I hope they brought some dehumidifiers
ghost of jean baudrillard, the @baudrillard2020: zillow be like 'zestimate: 699,899'
Harry C @HarryC27244406: He's gonna be late for work
💀@FloydTheFuckbag: Damn, someone really sold their house to Aquaman after all
Vijay Kumar G. G @VijayKumarGG1: May be aquaman living there….
Bruno Coelho @bcoelhone: lets drown those mf ghosts
dean martini @martinidayz: when it sinks it will become a home for thousands of life forms. Like the Titanic. Like all ships. which is kinda fitting.
Wendell Young @Realwyoung: "Waterfront fixer upper"
Travisbickle54 @meowmeowlarue: It's a house boat.