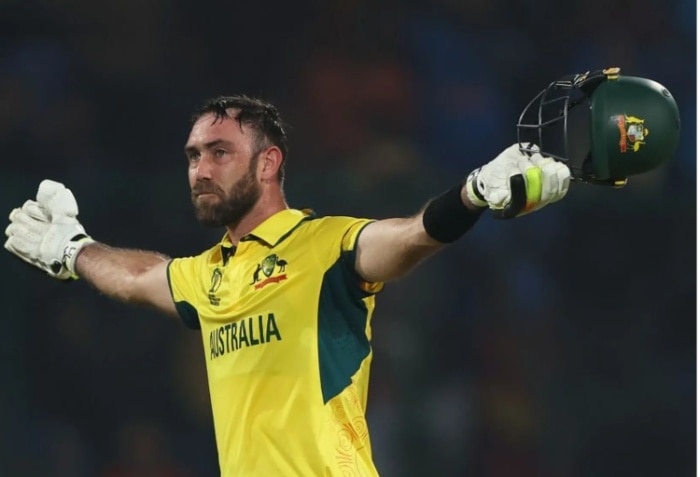 Maxwell was averaging 12.4 in ODIs in 2023 and hadn't hit a half-century in India in ODIs since the start of 2017.
New Delhi, Oct 25: Star Australia all-rounder Glenn Maxwell is well aware of all the records and said he drew on his experience of playing in India, including the IPL, to belt a 40-ball ODI century, the fastest in World Cup history.
Maxwell smashed nine fours and eight sixes on way to a sensational 106 off 44 balls to propel Australia to a mammoth 399 for eight against the Netherlands.
Maxwell was averaging 12.4 in ODIs in 2023 and hadn't hit a half-century in India in ODIs since the start of 2017.
"The fact that I've made runs in India during the IPL pretty regularly over the last couple of years, so I'm not too worried about people saying that I haven't made runs in ODI cricket because it doesn't really matter, especially my role in one-day cricket," he said at the post-match press conference after Australia hammered Netherlands by 309 runs here on Wednesday.
"It's so similar to T20, so I just draw on those experiences, knowing that if I do get it right on the day, hopefully my team will be winning.
"Having had a bit of success this year in India during the IPL, I've come to India during this World Cup full of confidence and even started well in the practice games with a good 70 against Pakistan," he said.
"People talk about my last 20 ODI games but they're spaced out over 6 years over different continents all over the place and one game at a time every four months, so there's not really much you can sort of go by." Maxwell, who also had scored a hundred in 51 balls against Sri lanka in the 2015 edition, said he is always aware of the statistics. "I'm very aware of them. I'm very aware of balls faced. I love the fastest 50, fastest 100 records. I think they're pretty cool records," he said when asked if he keeps an eye on the stats.
"Sometimes to the detriment of myself, I've always probably pushed the boundaries a bit too much. I think against Afghanistan in 2015, I was 88 off 37 and I was like I'm getting into the next two balls I hit one straight to cover and butchered it. I think I got my fastest 100 next game," he said.
"…I've been in those positions before I could make fast hundreds when I get on the run – I know I'm difficult to bowl to. It's just about getting past the first ball." Maxwell said he wasn't in great shape ahead of Wednesday's match.
"Yeah, not great. I was sitting in the changing room and I didn't really want to bat, which is a bit different than last game where I was way too eager to get out there," he said without specifying the exact reason.
"I was a little bit more chilled when I got out there. Didn't have many high hopes, I think. But yeah, I've been pretty cooked over the last couple of days. Coincided with the sleepless night last night with the family over…" Maxwell had a difficult last 12 months where he broke his leg in a freak accident and then recovered only to have an ankle soreness after the T20 series against South Africa.
"There's probably moments post the South Africa T20 series when I was forced to go home with a little setback. That was quite a frustrating period," he said.
"I felt like I had done a lot of good work post the blast, all that rehab back at home in Melbourne and I felt like my strength and my fielding stuff was going really well and to have that set back on day one of my training was quite frustrating.
"You do start to get some dark thoughts of like, is this going to affect me for the whole World Cup? Am I going to be struggling to get through every game? Am I going to be letting the team down by having to field in cold zones on the field where I'm not getting much ball? "That wouldn't have sat well with me I think if that had been the case. The fact that I don't have to be hidden in the field is quite nice," he added.
Maxwell, however, was not too pleased with the light show during drinks break of matches at the ongoing World Cup.
"Well, I had something like that light show similar happened at Perth Stadium during a Big Bash game and I just felt like it gave me shocking headaches and it takes me a while for my eyes to readjust," he said.
"I just think it's the dumbest idea for cricketers when you've got this thing coming at you quickly and your eyes take so long to adjust and I think we just lost a wicket and the Perth Stadium lights went nuts and I was at the other end and it took me ages to get my eyes to go again. "It's a horrible, horrible idea. Great for the fans, horrible for the players," Maxwell added.