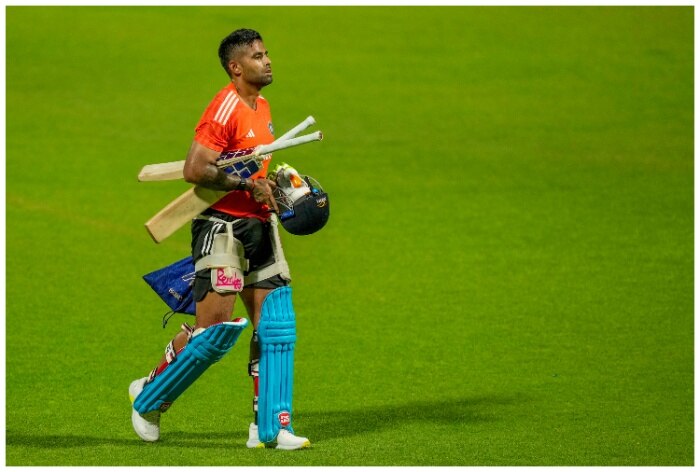 Suryakumar Yadav showed a different side to his batting in ODIs with a gritty 49 against England in World Cup.

Kolkata: India coach Rahul Dravid was happy that Suryakumar Yadav is showing a different side to his batting in the ongoing ODI World Cup 2023 with a gritty 49 on a tough track against England. India, who are unbeaten in the tournament so far and are the first team to make the semifinals, will face South Africa on Sunday at the Eden Gardens. The Proteas too cruised into the last four after New Zealand lost to Pakistan on Saturday via DLS method.
Unlike in T20Is, Suryakumar's records in ODIs are not satisfactory. But before ODI World Cup 2023, the No.1 batter in the shortest format found some form against Australia in the ODI series with two fifties. With India likely to go with the same playing XI, Dravid heaped high praise for SKY.
"You've got to keep evolving. You've got to keep getting better. And the more kinds of situations he (Surya) finds himself in and he comes out of it, like he did really well against England, the better he's going to get at it," Dravid said about 'Mr 360'.
What has impressed Dravid the most is the areas of scoring which Surya has improved upon, and he is not just looking to play his T20 game. "Yes, I mean, there are just in terms of just the areas in which he scores in T20 cricket and how quickly he has to go in T20 cricket. He's obviously been exceptional at that.
"And it's good to see that in one-day cricket, he's also realising that maybe at times you can give yourself a little bit more time to settle in. And then you know how dangerous he can be at the death."
Nearly 10 years of quality domestic cricket and 82 first-class games have really helped Surya, feels Dravid.
"I think he has that experience because he's played so much of domestic cricket. He's been around for the last 10 years. So, I think, we're sort of relying a lot also on his experience to be able to read a situation really well.
"Like against England, when we have wickets down, then probably you need him to play a slightly different kind of role for a while and then look to go hard at the end." Surya and Jadeja are two players, who are expected to be the X-factors at the back-end in Hardik Pandya's absence.
"It's nice to have that experience of people like him and Jadeja at the back-end just to be able to read that situation and play according to the situation. And that's really important in one-day cricket.
"T20 cricket sometimes, you know, you just have to play in one way. One day, sometimes lower down the order you can actually, you need to be able to be smart enough to read a game and read a situation."