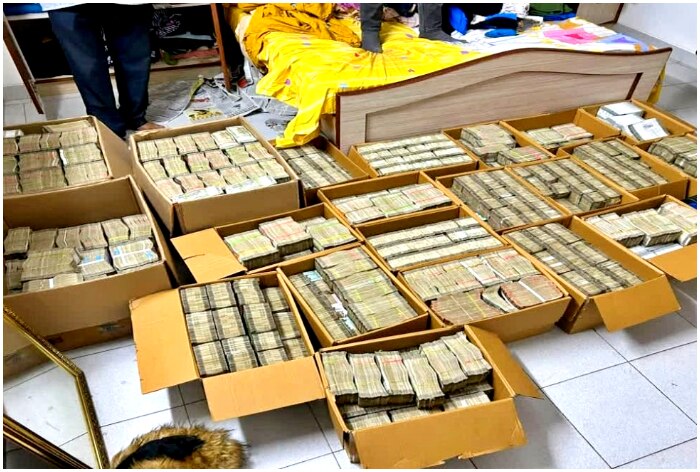 Over Rs 40 crore was seized from a residence in Bangalore during an income tax raid. The residence belong to a relative of the former corporator.
Bangalore: In a major operation, the  (IT) has seized more than Rs 40 crore in Bangalore from the residence linked to a former contractor. The IT officials on Thursday evening  conducted a series of raids at various residences of the former corporator leading to the seizure of a whopping sum exceeding Rs 40 crore. The IT officials raided one of contractor's residence at Atmananda Colony situated in RT Nagar Bangalore on Thursday night and were surprised to see an eye-popping amount of unaccounted wealth.
The house where the money was seized is owned by corporator's close relative, ETV Bharat reported. The raid led to finding of Rs 42 crore. The IT officers found the money hidden under a bed in one of the flat's rooms. This huge amount of cash was supposed to be taken to states having elections later in the year. This surprised many and showed how serious the situation was.
It is worth noting that contractor, R. Ambikapathy, is the office-bearer of multiple contractors' associations in Karnataka that had made the "40% commission" allegation against the previous BJP regime.
He was also one of the contractors who was arrested after a criminal defamation case over, corruption allegations, filed by the former Minister Munirathna. He was later released.
The raids have sparked a political battle between the ruling Congress and the BJP, as well as the Janata Dal (Secular). While Deputy Chief Minister D. K. Shivakumar has called the raids "politically motivated," the BJP and JD (S) have claimed that the money recovered from the contractor just before the elections in five states was actually "commission" from contractors intended to "finance the elections."
The money was stashed in more than 20 cartons and concealed under a bed in the flat. After seizing the large sum of cash recovered, the Directorate of Enforcement (ED) has begun a preliminary inquiry into the case and will likely join the probe by registering a case, sources said.