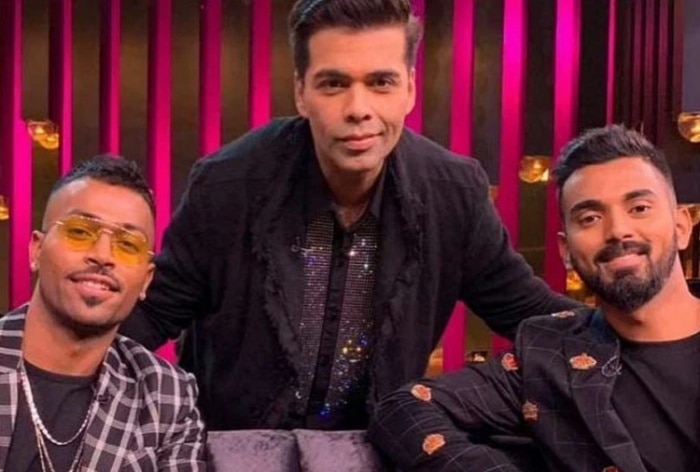 Koffee With Karan 8: Karan Johar recently admitted that he would not invite cricketers again on his show as he recalled the Hardik Pandya-KL Rahul episode.
Koffee With Karan 8: Karan Johar is known for asking candid questions from his guests in his celebrity chat show Koffee With Karan. As the eighth season of his famous series has once again kickstarted, he recently answered questions of youngsters about his expected guests in the show. He was recently asked about whether Shah Rukh Khan would make an appearance in this season since fans are eagerly waiting for it. To which, Karan said that Shah Rukh deserves his silence and as fans everyone should give him that personal space and respect his decision. On being quizzed whether Hardik Pandya and KL Rahul could once again appear in Koffee With Karan 8, Karan said, "Will they come? I don't know. (laughs) I'm not sure. I would love to have them. They are national icons and celebrated illustrious personalities."
KARAN JOHAR REACTS TO INVITING CRICKETERS ON HIS SHOW
The Rocky Aur Rani Kii Prem Kahaani director further added, "But I think with what happened last time, I'm not sure they will even take my call. I'm scared to even call, and I'm such a big fan and have so much respect in my heart. I don't want to be rejected." For the unversed, Hardik Pandya and KL Rahul were criticised when they appeared in Koffee With Karan as their comments were called sexist by netizens. In the controversial episode, speaking about his relationships, Hardik said, "When I lost my virginity, I came home and said, 'Main karke aya hai aaj (I had sex today)'. At a party my parents asked me 'acha tera wala (women) kaun sa hai [who is your interest here?] so I said yeh, yeh, yeh (pointing out women)' and they were like 'waah proud of you beta'." When Karan quizzed him why he does not ask names of women at nightclubs, the cricketer replied, "I like to watch and observe how they (women) move. I'm little from the black side so I need to see how they move." When the KWK host asked what happens if both Hardik and Rahul are interested in the same person, Rahul told, "Upto the woman." However, Hardik opined, "Nahi nahi aisa kuch nahi hai, talent pe hota hai (No, no, it's not like that, depdnds on talent). Jisko mila woh leke jao (Whoever gets the girl, go with her). It is on talent." A case was registered against Karan, Rahul and Hardik. On August 2022, Jodhpur High Court gave the trio relief as it found them innocent in connection with the case.
Recently, Deepika Padukone and Ranveer Singh appeared on the first episode of Koffee With Karan 8 where the spoke about their relationship and how the duo dealt with Deepika's struggle with mental health.
Good news! India.com is now on WhatsApp Channels. Subscribe today by clicking the link and stay updated with the latest news on entertainment and lifestyle. Click here!