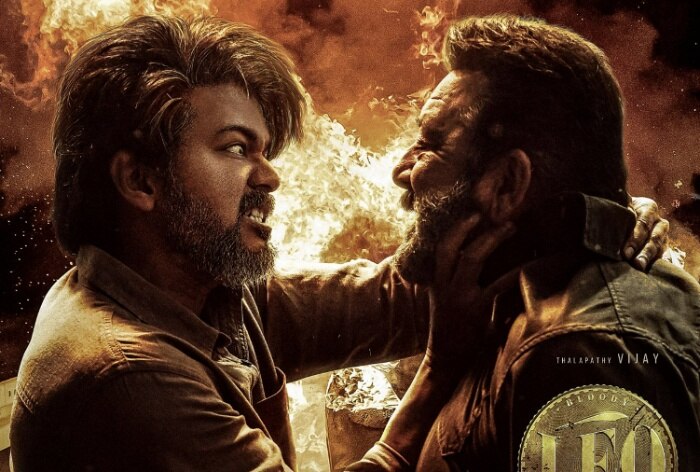 Leo Box Office Collection Day 10: Thalapathy Vijay and Sanjay Dutt's crime actioner saw a huge jump on its second Saturday. – Check Report
Leo Box Office Collection Day 10: Thalapathy Vijay is ruling the box office even in the month end with his crime-action-thriller Leo. The actor is on a rampage with the commercial success of the film worldwide. The high-octane action, VFX and larger-than-life depiction is being hailed by fans. Leo was much hyped as the biggest release of 2023, and it has lived up to the expectations of movie buffs. The movie witnessed a massive jump on Saturday on its second weekend. Leo had previously seen a slight drop in earnings as it collected Rs 7.65 Crore on Friday, garnered twice the amount on its tenth day.
LEO SEES RISE IN ITS BOX OFFICE COLLECTION
Leo earned Rs 14.00 Crore on Saturday, which took its Net India collection to Rs 284.90 Crore. The mass appeal of Vijay and the film's connection to LCU (Lokesh Kanagaraj Crime Universe) has resonated with cinephiles. For the unversed, Leo is linked to Lokesh Kanagaraj's crime actioners – Kaithi and Vikram. Movie buffs have also hailed the film for its striking similarities with A History of Violence. With the continuing box office rampage the Vijay starrer shall prevail for the coming weeks until any big release hits the theatres.
CHECK THE DAY-WISE BOX OFFICE COLLECTION OF LEO – INDIA NET (SACNILK):
Day 1: Rs 64.8 Crore
Day 2: Rs 34.25 Crore
Day 3: Rs 38.3 Crore
Day 4: Rs 39.8 Crore
Day 5: Rs 34.1 Crore
Day 6: Rs 30.7 Crore
Day 7: Rs 13.4 Crore
Day 8: Rs 8.9 Crore
Day 9: Rs 7.65 Crore
Day 10: Rs 14 Crore
Total: Rs 284.90 Crore
LOKESH KANAGARAJ HAILS SANJAY DUTT'S DEDICATION FOR LEO
Leo released on October 19, 2023. It also stars Sanjay Dutt, Trisha Krishnan, Gautam Vasudev Menon, Denzil Smith, Anurag Kashyap and others in crucial roles. Speaking about working with Dutt, Lokesh said, "To describe how much freedom I had working with Sanjay Dutt sir… I should say I had the same amount of freedom I had working with Shri and Sandeep (in Lokesh's debut film Maanagaram). I didn't expect it. Based on his interviews and films, I had a different perception of him. I told myself 'Okay, this is how he is going to be and you have to be this careful as he has done so many films'. However, when I told him the story and he found there was a scope for him to perform, he was elated." He further added, "He has done around 270 films, but this is the first one in Tamil. He has done KGF, and we have seen him perform. He could have just said, 'I will mouth the dialogues, you guys take care of the lip sync'. But, no. Every day, he would get the dialogues and sit with two of my assistants like a tuition student. He would memorise the dialogues, record and send them to me. Only then he will go to sleep. Sometimes, he will prepare till 2 AM or 3 AM before coming to the sets in the morning. I never dreamt of such dedication."
Good news! India.com is now on WhatsApp Channels. Subscribe today by clicking the link and stay updated with the latest news on entertainment and lifestyle. Click here!