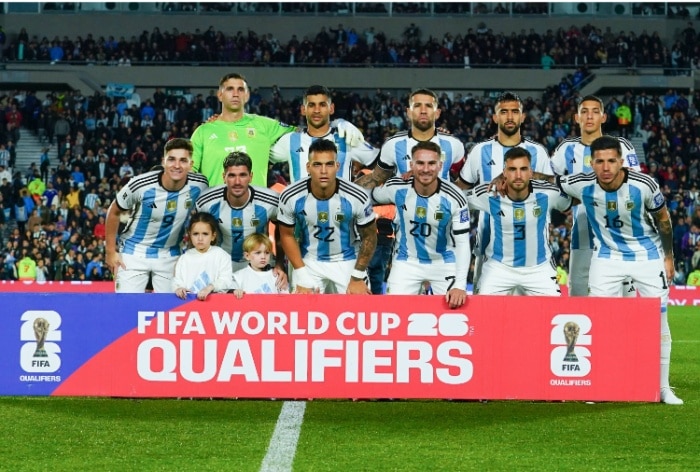 Peru vs Argentine, 2026 FIFA World Cup Qualifying: Get here all live streaming details about PER vs ARG football match.

New Delhi: Lionel Messi is a doubtful starter in Argentina's 2026 FIFA World Cup qualifying game against Peru at Estadio Nacional on Wednesday after he didn't show up in practice. The 36-year-old has recently felt muscular pains in his right leg that have sidelined him for several MLS matches for his club, Inter Miami. The Peru vs Argentina match starts at 7:30 AM IST on October 18.
If Messi plays at Peru, coach Lionel Scaloni might have to remove either Julián Alvarez or Lautaro Martinez from the lineup that beat Paraguay in their previous encounter. Keeping the captain in the starting lineup will likely mean Argentina playing Nico Gonzalez again in Lima.
Messi substituted Julián Álvarez in the 52nd minute against Paraguay, when Argentina were already in the lead. He hit the post twice but had a low-key performance overall at the Monumental de Nuñez Stadium in Buenos Aires.
Peru are coming after losing two qualifying matches in South American qualifying. Players and coach Juan Reynoso know they will face a much tougher challenge against the World Cup champion.
The next World Cup in the United States, Mexico and Canada is expanding to a 48-team format, meaning direct entry to the top six teams in South America. The seventh-place team will contest an intercontinental playoff for a berth.
World Cup winner Argentina lead continental qualifying with 9 points, followed by Brazil (7), Colombia (5), Uruguay, Chile and Venezuela (4), Ecuador (3), Paraguay and Peru (1), and Bolivia (0).
Head-To-Head
Argentine enjoy a 35-7 win-loss record against Peru out of 56 matches they have played against each other. 14 games ended in draws.
How to watch live streaming of Peru vs Argentina, World Cup Qualifiers Live In India?
Unfortunately, no channels in India will live telecast the Peru vs Argentina World Cup qualifying match in India. Live streaming of Peru vs Argentina football match will be available on FIFA+ app and website in India.