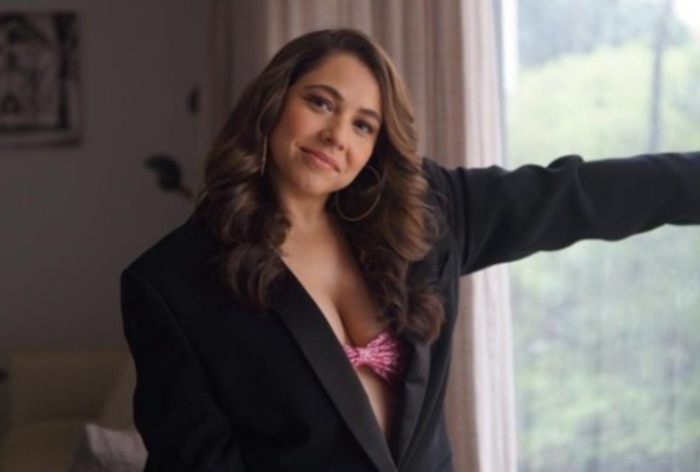 Maanvi Gagroo, who is hitting the screens with her latest web show Half Love Half Arranged, opened up why plus-size actors should not be put in a box and restricted to other roles because of their body-type. Read her exclusive interview below with India.com.
Maanvi Gagroo has made a mark in the world of OTT with her unconventional roles. With shows like Four More Shorts Please and TVF Tripling, the actress has gained massive recognition for her natural screen presence. Maanvi, who is basking in the success of her latest web show, Half Love Half Arranged on Amazon's miniTV, opened up about typecasting plus-size actors in Bollywood. In a candid interview with India.com, she talked about narrow beauty standards set up by the industry, making it challenging for plus-size actors to break through and secure diverse roles.
Maanvi Gagroo Stance on Breaking Barriers For Plus-Size Actors
Plus-size actors are often typecast into roles that revolve around their appearance, such as comedic characters or those that focus on weight-related issues. While discussing the same, Maanvi believes, "If you are casting a plus-size actor into a plus-size role, toh usmain koi mahan cheez nhi ha. This is just the story's requirement. That's what the problem is, the opportunities available to plus-size actors are generally limited, making it difficult for them to build a diverse portfolio and gain recognition for their acting abilities."
The entertainment industry has traditionally adhered to certain beauty standards and norms. These standards often prioritise fit actors for leading roles. Gagroo added, " Filmmakers might think that the audience prefers specific body types for romantic or glamorous roles and this belief can impact their casting choices because they worry how the audience will react."
In Four More Shots Please, Gagroo portrayed Siddhi Patel, a character who initially grappled with body image concerns but eventually embraced herself, growing more confident than ever. The actress said she understood the character well because she has faced similar issues in her own life. Maanvi told, "Many people approached me, hugged and cried, as they could totally relate to Siddhi in real life."
Maanvi Gagroo on Body Inclusivity And Progress
Gagroo feels that now the industry and audiences are recognising the value of breaking away from conventional beauty standards and embracing actors of all types. She said, "While changes take time, it's encouraging to see more plus-size actors and characters breaking free from stereotypes and taking on significant roles in Bollywood." However, the industry still has a long way to go in fully addressing these issues and providing equal opportunities for all actors, regardless of their body size.
She also expressed her satisfaction with the role in Half Love Half Arranged, where the storyline doesn't revolve around weight issues, but explores other challenges in a woman's life. Maanvi also disclosed that they are in ongoing discussions about the fourth season of "Four More Shorts Please" and she is excited about it. Bani J, Kirti Kulhari, and Sayani Gupta also appear on the show.