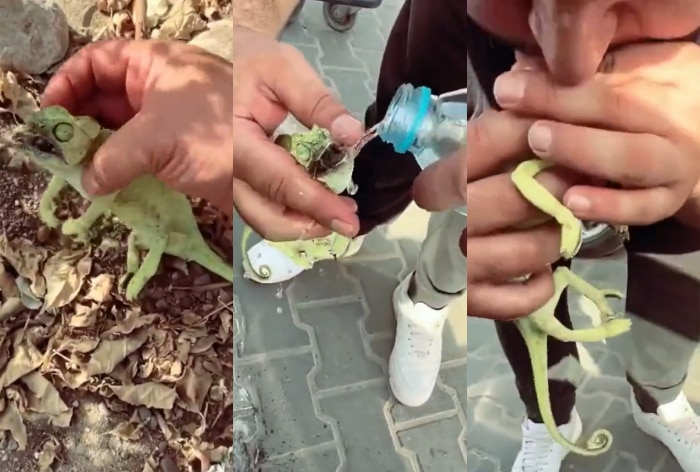 This video shows one iron-willed and fiercely determined man who discovers a dead chameleon lying on the ground in the bushes.
Man Revives Dead Chameleon: It has been said that it is not over till it is over, i.e., don't give up too soon; there may still be a chance to succeed. And it holds true for many near-impossible and extremely adverse situations. This video shows one such iron-willed and fiercely determined man who discovers a dead chameleon lying on the ground in the bushes. He pours some water on it and then starts with a gentle body massage and also gives mouth-to-mouth resuscitation. He takes the lizard with him and provides every possible medical care and other procedures to bring it back to life. And he succeeds!
Watch The Video Here
He is amazing!pic.twitter.com/IVdDqn14pU

— Figen (@TheFigen_) October 10, 2023
The video is shared on X by Figen @TheFigen_ with the caption: He is amazing!
This video is a loud and clear message to all of us about the never-say-die attitude, indomitable spirit, and fierce resolution. Moreover, it also tells us that every living being deserves the same respect and value and one should go ahead and do their bit in whatever manner they can.
The video has received several comments. Sharing a few with you.
A Life Without Humans @alifewithoutus: This phenomenon, is known as anhydrobiosis, which allows the chameleon to enter a state of suspended animation when faced with extreme dehydration. During this time, their metabolic processes slow down to a near halt, and they appear lifeless. However, when rehydrated, chameleons can revive and resume their normal activities, showcasing an incredible adaptation that enables them to survive in arid environments where water is scarce.
Maryna Oleksina @maryna_oleksina: The lizard at the end looks nothing like the lizard he was trying to save
Travis Jamiso @Travis_Jamison: Three body problem – "dehydrate"
Jubil John @JUBILJOHN: The bike got skills
@RealMonster02: नशा
50 Life @Fit_50_Life: Salute
Carthick @Karthik_Balasub: Yes it's Is amazing But is not dangerous to human ?
Amit Srivastava @DesiCricketerr: He is brave too.
Isah Musa Mohammed @Mansaah_Musa: God bless this man. I pray he get a special place in heaven
Felix.Whale @Unlimitedfelix: This can't be really
Ihtesham Haider @ihteshamit: NOW HE'S A FRIEND
Joeyserra @joeyserra369: Thank you for not giving up~❤️‍
David Eseosa @DavidTopChap: Amazing
Dichi @NwanneDivine: This vid says a lot, don't give up, miracle is just on the way
Phypτo @phypto_logic: More people like this pls
Entertainment @Xentertainn: Amazing
Zahid Sharif @ZahidSh77115244: Respect for this human
Faraz | फ़राज़ @F2Zitis: A true CHAME-PION!