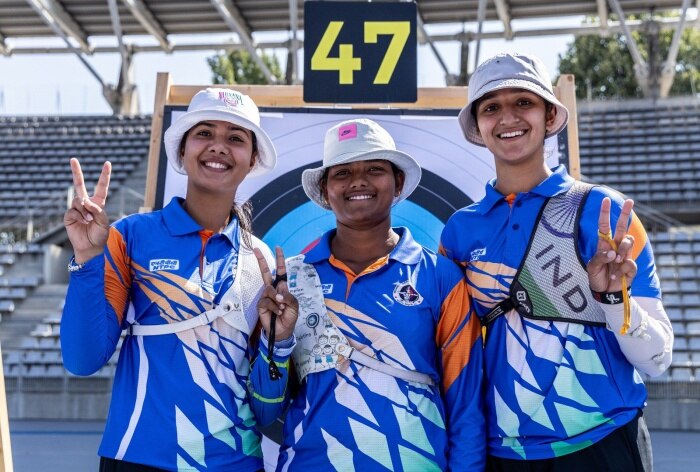 Ankita Bhakat and Bhajan Kaur along with Simranjeet Kaur clinched the bronze medal for India in recurve archery after 13 years at the Asian Games 2023.
Ankita Bhakat, daughter of a milk vendor, and Bhajan Kaur, who took to archery after trying her hand in shot put, were right on target when India won their first medal, a bronze, in women's recurve event after 13 years at the Asian Games on Friday. Ankita and Bhajan, the youngest of the trio at 18, teamed up with Simranjeet Kaur to overcome some crunch moments to bring the bronze, the country's first in Olympic recurve section since Guangzhou Games 2010, where they had won three medals.
"This medal will rank at the top. I've won many medals at the World Cup but to win at the Asian Games is different and definitely this will rank higher," the senior most member of the team Ankita, who suffered a heartbreak in Jakarta Games 2018, told PTI. The daughter of a milk vendor in Bidhan Park area near Baranagar, Kolkata, Ankita struggled for six years and could not afford to buy a recurve bow.
India celebrates our Women Archers' triumphant achievement of winning the Bronze Medal at the Asian Games. Congratulations to Ankita Bhakat, Simranjeet and Bhajan Kaur. Their precision, teamwork and dedication are remarkable. pic.twitter.com/imGFeZgRZb

— Narendra Modi (@narendramodi) October 6, 2023
"I shot with an Indian bow and won the Nationals too, but my family could not afford a recurve bow. So, my career never progressed beyond that," Ankita, who hails from Sithi More, recollected her days at the Kolkata Archery Academy.
"Everybody would tell me to go for recurve. But we did not have any money to buy a recurve bow which would cost about Rs 2.5 lakh then," she remembered.
Ankita's career took a better turn after she was selected from a Tata Archery Academy trials in 2014 and within two years she made her India debut at the Asia Cup World Ranking Tournament in 2016 at Chinese Taipei and won a team gold.
Being the senior most member of the side, Ankita shouldered the responsibility to shoot first and gave India a perfect start. "In a precision sport like archery, anything can go wrong but I wanted to ensure that the mood does not get tense, hence we had to keep talking," Ankita said.
"Bhajan generally cracks jokes and keeps the mood light within the team," Ankita said. Bhajan shot last in the sequence and clinched the medal with her winning shot of 8 that gave them a 6-2 win over Vietnam. She needed a seven from the last arrow of the decisive fourth set. If she faltered, Vietnam would have tied it 4-4, forcing a shoot-off. But Bhajan came up with a seven to clinch the bronze.
Shot Put to Archery to Bronze
It has been a rapid progression for Bhajan who started off as a shot-putter while studying at Nachiketan Public School at Ellenabad in Haryana. "I tried shot-put for about a year but there was little success and then I was selected during a trial at the Asian Games," she remembered.
"I'm in love with the sport now. The pressure situation brings out the best in me and I'm grateful to have seniors like Ankita and Simranjeet guiding me all the way," she said. In the bronze playoff, Bhajan, in fact, bettered her teammates and came up with six 10s from her eight arrows. Ankita and Simranjeet, on the other hand, managed a 10 each.
But Ankita credited her seniors for bringing out the best in her. "Even I was scared, and my heart was beeping fast but they handled me well," she summed up their bronze medal winning effort.
(With PTI inputs)