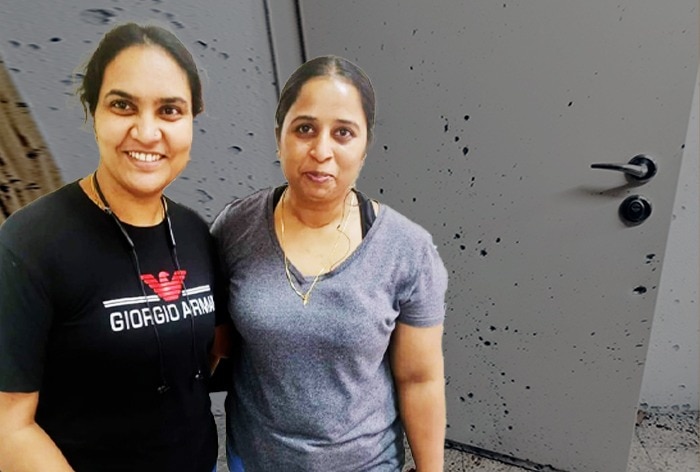 The day of the incident began like any other, with Sabita finishing her night shift, preparing to retire to her room. However, at 6:30 a.m., the blaring siren was sounded to warn people to seek refuge in bomb shelters.
New Delhi: With threats looming and a door under attack when Hamas launched an offensive against Israel on October 7, Sabitha and Meera faced a terrifying situation as they, along with an elderly couple, were trapped inside their house. When Hamas militants entered Nir Oz Kibbutz, a town in Southern Israel, just 2km from the Gaza border, and stormed the house of Shmoulic, 85, and Rahel, 76, the two home nurses working there successfully prevented them from harming the couple. The embassy hailed Sabitha and Meera, caregivers working in Israel, as "Indian Superwomen".
The day of the incident began like any other, with Sabitha finishing her night shift, preparing to retire to her room. However, at 6:30 a.m., the blaring siren was sounded to warn people to seek refuge in bomb shelters. Soon, they received a call from Daliet, Rahael's daughter, urging them to lock the house and relocate to the secure room, as terrorists had infiltrated the peaceful confines of the Kibbutz.
Sabitha, a native of Keezhapally in Kannur, and Meera, hailing from Peruva, Kottayam, held the shelter room's iron door closed with all their strength for nearly five hours, with gunshots echoing ominously outside. They did not budge even when the troopers tried to smash the door open with guns and other heavy objects.
The story of their remarkable heroism became widely known after Sabitha recorded a video statement, which was shared on social media, notably X (formerly known as Twitter), by the Embassy of Israel in New Delhi. In her testimony, Sabita vividly recounted the nerve-wracking six hours spent in the safety of the house's secure room, where she and her fellow caregiver, Meera, valiantly stood their ground. Their resolute determination kept the terrorists at bay, ultimately saving the life of their patient and her husband.
"At 6.30am, we heard continuous siren. Once it's heard, we've to enter the safety room within six seconds. Dalit asked us to lock the front and rear doors securely. She kept on giving directions over phone. We carried Appachan (Shmoulic), who can walk but is very weak due to sclerosis, to the shelter room. By 7.30am, loud noises were heard outside the shelter room. Hamas terrorists entered our house and started firing at the shelter room. At Dalit's insistence,  Meera and I, stood behind the iron door, and with all our might, we blocked it with our bodies,"  recalled the 39-year-old.Meera further narrated the ordeal as Sabitha was at a loss of words. She said both of them stood behind the door until 1.30pm. "Fortunately, they could not destroy the iron door. God was with us, Appachan and Ammachi, said 34-year-old Meera.
भारतीय वीरांगनाएं ! 🇮🇳🇮🇱

मूलतः केरला की रहने वाली सबिता जी, जो अभी इजराइल में सेवारत हैं, बता रही हैं कि कैसे इन्होने और मीरा मोहन जी ने मिलकर इसरायली नागरिकों कि जान बचाई। हमास आतंकवादी हमले के दौरान इन वीरांगनाओं ने सेफ हाउस के दरवाजे को खुलने ही नहीं दिया क्योंकि आतंकवादी… pic.twitter.com/3vu9ba4q0d

— Israel in India (@IsraelinIndia) October 17, 2023
Sabitha and Meera could recall the horrifying experience only with a shudder. Speaking to TNIE over phone, Sabitha said Shmoulic and Rahel have four children, of whom two live in the vicinity. "We had an inkling that Israel would come under attack anytime soon. Hours before the ambush on the ill-fated day, Dalit had told us to ensure that Ammachi (Rahel), who is bedridden and on ventilator support, was shifted to the shelter room. Dalit had asked us to take our passports, patients' diapers, urine pot, mobile phones, a pair of dresses and medicines in case of an evacuation," Sabitha said.
Their indomitable spirit and selfless dedication to the well-being of their patients are inspiring, and their story has been widely shared, including by BJP leader Anil K Antony on X.
Meera and Savita , both nurses from #Kerala who resisted the terrorists , saved the lives of the elderly they were taking care of , and survived.
Both brave hearts , real life heroines , are amongst the pride of the whole state and the rest of India.
And then there are also the… https://t.co/pvL1Jm3LyX

— Anil K Antony (@anilkantony) October 17, 2023
To their horror, they realised that Rahel's two wheelchairs, kettle, few sovereigns of Sabitha's gold and passports were stolen. Once they came out of the building, they realised that the town had become a concrete grave, with dead bodies scattered everywhere. The elderly couple and the caregivers were then shifted to a hospital.