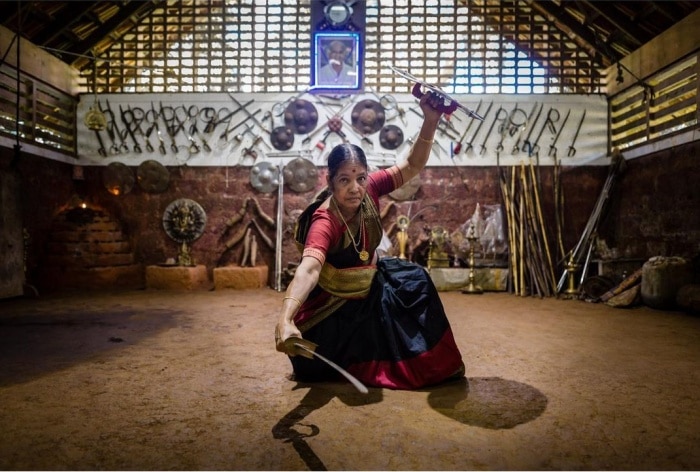 A saree and sword is all the empowers Padma Shri Meenakshi Gurukkal, who is now 78 but her vigour to continue to teach the ancient martial art Kalaripayattu knows no bound.
A sword, a saree and swift moves is what leave everyone's jaws dropped when one witnesses the Amma practising her art. Meenakshi amma Gurukkal, is one of the notable names in the books of martial arts who teaches the ancient art from Kerala – Kalaripayattu. Clad in six yards of elegance, the 80-year-old believes that every woman must know the art form and perform every stance and every move in a saree with unwavering courage and ease.
Agile and light on her feet, the 80-year-old is always dressed in a pastel-shade saree with her hair ie din bun. Till date, she takes in disciples and enters the Kalari – the arena with red earth- where the same zeal.
Who is Meenakshi Gurukkal?
Hailing from the quaint yet panoramic town of Vadakara, Gurukkal is a recipient of Padma Shri award as well. Reminiscing her early days, she explains that Kalaripayattu has been her life since the age of 7 when her father first introduced her to it by taking her to watch an exhibition performance by a Kalari group. "That was long before Independence and my father was determined that both my sister and I learn this art," she recalls speaking with Better India.
Watch Meenakshi Gurukkal Perform Kalaripayattu
Eventually, she developed an interest in the martial art form and enrolled with Raghavan Master. Years later, she married her guru and both of them run the classes together. According to a report by The Better India, Amma does not charge any fee from her students. It is only at the end of their class that students pay a gurudakshina as per their capabilities.
About Kalaripayattu
Kalari, which is mentioned in Tamil Sangam literature (300 BCE to 300 CE), was taught to warriors as a combat form to fight battles. Then it was practiced only by men in the north and central part of Kerala, and the southern part of Tamil Nadu. According to legends, sage Agastya is regarded as the originator of southern Kalaripayattu, along with Lord Parasurama. After reigning supreme for many centuries, this martial art form witnessed a decline but was revived later.
Each movement in Kalari leaps and jumps is so graceful and fluid that they remind one of the traditional Kerala dance forms. Many practitioners of the traditional dance forms of Kerala include a couple of items of this martial art too.