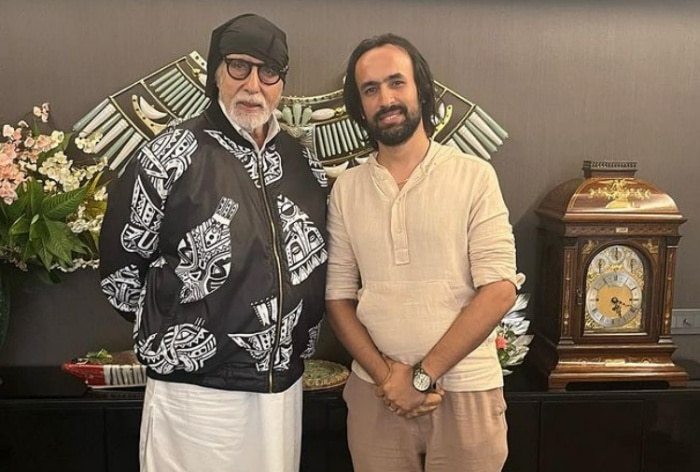 The 37th National Games' theme song was written by composer Samarpit Golani and featured the distinctive voice of Bollywood legend Amitabh Bachchan.
The 37th National Games theme song, which features Amitabh Bachchan's signature voice, was masterfully composed by the renowned composer Samarpit Golani in a historic partnership that exudes patriotic zeal. It is expected that this hymn will endure as a testament to the nation's pride and cohesion. During an exclusive conversation with India.com, Samarpit Golani opened up about his brief encounter with Amitabh Bachchan, the hardest part of being a singer and more.
Who is Samarpit Golani, 32 Year Old Composer?
Samarpit Golani, a native of Jabalpur, Madhya Pradesh, kicked off his musical journey under his musician father. The 32-year-old composer is renowned for his spiritual and religious compositions. He has created an emotional song in honour of India and its sportsmen who bravely represented the nation worldwide.
Samarpit Golani was recently awarded at the famous Mashal event, held at the governor's home in Goa, by Chief Minister Pramod Sawant and the Honorable Governor of Goa, Mr P. S. Sreedharan Pillai, in appreciation of his extraordinary contribution to music. This honour confirmed Golani's steadfast commitment to his work and capacity to produce music with enduring power.
Samarpit Golani's 'Wonderful' Experience With Amitabh Bachchan
Samarpit Golani opened up about his 'wonderful' interaction with the legendary icon. He said, "As an artist, definitely we need to remember ki tum kitne bhi bade ho jao but jahan Amitabh Bachchan aarahe hai aur yeh bole ki – 'Samarpit ji, yeh mene record kardiye hai,' yeh jo pure Hindi hoti hai na Banaras wali apne shabado mein bolte hai, yehi nahi ki unhone itna kaam karliya baat yeh hai ki uss kaam mein bhi abhi woh kalkaar wali baat. Unhonhe yeh bhi kaha tha ki – 'Mein sirf abhi shareer se budha hua hoon, mera artistically mein abhi bhi utna hi zinda aur pure hoon. Mein kya karun maatha tek loon."
What is The Hardest Part of Being a Singer? Samarpit Golani Speaks
Samarpit Golani revealed how an artist requires full liberty while working on his or her craft. He said, "When the singer wants to sing something, and the producer says 'yehi chaiye.' Unka maana bhi sahi hai par ek jo purity hoti hai na artistically taaki woh aur khil kar aaye aur artist apni aur best cheezein lekar aayega."
The composer also dived deep and talked about how Mani Ratnam gives full power to his team which is why they prosper in full sense. He also told how he was given full authority while composing the melodic masterpiece for the 37th National Game. "There was no boundary ki Samparpit you just had to pick this particular line or you have to do this and this. Aapko jesa khelna hai, jo point rakhne hai, aap please kijiye, aap pura khule huye hai, yeh puri pitch aapki hai toh mein maida khel sakta hoon, mein galti kar sakta hoon. Galtiyan karne mein ek learning ka scope badh jaata hai. Aapne galtiya kari hai toh samhalne ki bhi capacity hoti hai," concluded Golani.
The 37th National Games' theme song, which Badi Picture Entertainment produced, combined Swaroop Khan and Nandni Sharma's melodic abilities and Amitabh Bachchan's powerful voice. The anthem honoured the country and its athletes, encapsulating their spirit and vitality. Sushil Kumar wrote the lyrics. The pristine sound quality of the hymn, mixed at YRF Studios by Vijay Dayal, was evidence of Samarpit Golani's compositional prowess.