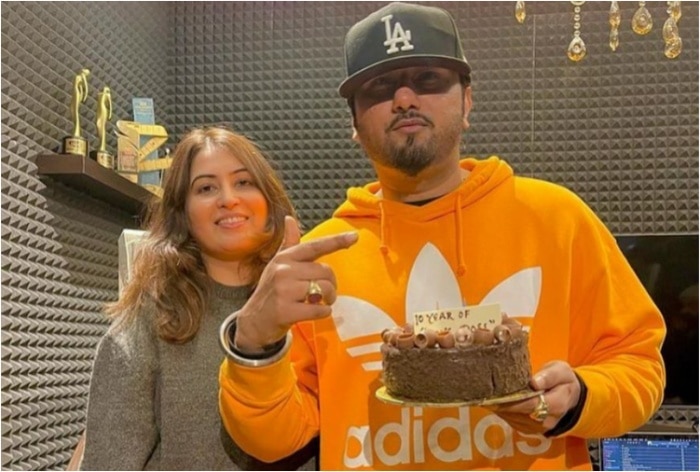 Honey Singh and Shalini Talwar were together for more than 23 years (13 years of marriage and 10 years of dating). All you need to know about the rapper's ex-wife.
A Delhi Court on Tuesday, November 7, granted divorce to singer Honey Singh and his wife Shalini Talwar after more than a year of litigation. His wife had filed a domestic violence case against the singer. Principal Judge (Family Court) Paramjeet Singh at Saket Court granted a decree of divorce to them after they arrived at a settlement agreement to end all the disputes between them, ANI reported. They arrived at a settlement and alimony of Rs one crore last year. She has withdrawn her case against Honey Singh. She had alleged domestic violence and filed a domestic violence case also.
Honey Singh and Shaluni Talwar were married for around 13 years. They had got married in January 2011 and moved a plea seeking a mutual divorce in September 2022. During the hearing, in a query raised by the judge, Honey Singh said that there is no further chance to live with his wife, the report added.
Advocate Ishan Mukherjee appeared for Honey Singh and said that the decree of divorce had been granted by the court after allowing the second motion. A second motion, according to the Hindu Marriage Act, is moved after a period of six to 18 months from when the petition for divorce is lodged. The period of six to 18 months is granted as a period of interregnum, which is intended to give time and opportunity to the parties to reflect on their move to seek divorce.
Who is Shalini Talwar, ex-wife of Yo Yo Honey Singh?
Shalini Talwar, now 36 years old, was born in 1987 and hails from Delhi. She completed her education at Guru Nanak Public School in Punjab Bagh, New Delhi, and later explored a career in modeling. Interestingly, she also made a cameo appearance in the 2004 movie "Run," alongside prominent actors like Abhishek Bachchan, Bhumika Chawla, and Vijay Raaz.
The love story between Shalini Talwar and Yo Yo Honey Singh, the renowned musician and rapper, began in their teenage years. They first met during their time at Guru Nanak Public School in New Delhi back in 2001 and quickly became childhood sweethearts. Despite the challenges of a long-distance relationship when Honey Singh pursued further education in the UK, their love endured, with occasional meetings during his visits to India.
After a decade of being in a relationship, Honey Singh and Shalini decided to take their commitment to the next level. On January 23, 2011, the couple celebrated their marriage in a traditional Sikh wedding held at a farmhouse in Delhi, marking the beginning of a new chapter in their lives.
Their marriage came into public after 2014 when Honey's name came with Fear Factor contestant Deana Uppal. There were rumours the two were dating each other.