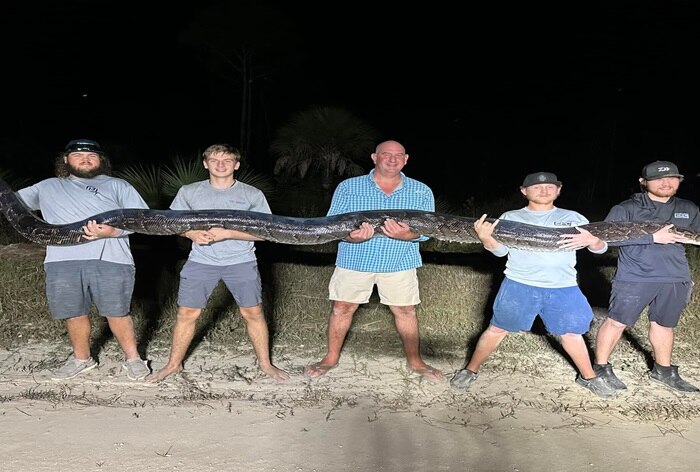 Five men captured a giant 17-Foot Python in Florida's Big Cypress National Preserve.
Men Captured 17-Foot Python: Snakes are one of the most dreaded and mysterious creatures on the planet. They are also among the most brutal predators, and when it comes to killing animals, these venomous reptiles show no mercy. Among all the snake species, pythons are the giant ones that can grow to enormous sizes. In Florida's Big Cypress National Preserve, a group of python hunters captured a massive reptile measuring an enormous 17 feet and weighing close to 90 kilograms.
As per reports, the monstrous reptile was first spotted by 45-year-old conservationist Mike Elfenbein and his 17-year-old son Cole when they were searching the preserve for invading snakes. Once the giant reptile was spotted by the father-son duo, other hunters Trey Barber, Carter Gavlock and Holden Hunter joined the two to catch it, reports UPI.
"We were strangers. But the five of us knew we had to capture this thing," CBS News quoted Elfenbein as saying.
Check Pictures Here
According to Elfenbein, Gavlock was the first man to grab the giant reptile by its tail. Then Gavlock and Cole grabbed its head so that it wouldn't move. Five men struggled to get control of the 17-foot Python. The python repeatedly raised its body off the ground in an attempt to stop the hunters and keep them out of the way.
Elfenbein shared pictures of their 'big catch' on Instagram. In the caption of the post, he wrote, "Officially 17'2" & 198 pounds. This snake ate a lot of native wildlife to get this big. She ate her last meal! It took five of us to control her, and we are glad to have removed her from our Everglades, where she can no longer eat our wildlife."
Since being shared, the post has garnered several likes and comments. The post has also prompted users to express their thoughts in the comments section.
Here Are Some Interesting Comments
"Thank goodness none of you were hurt or bitten during your attempt to capture her!," an Insta user wrote.
"My god I would cry catching that thing! Good job!," the second user commented,
"Wow! Great job!," the third user amazed.
"She's freaking huge!" posted a fourth.