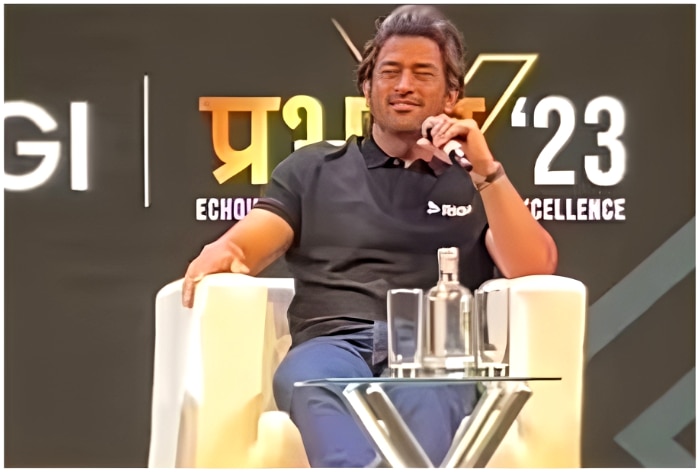 In the viral video, Dhoni can be seen sharing some valuable relationship insights to bachelors.
Dhoni's Relationship Advise Is Viral On Internet: Former Indian skipper MS Dhoni is renowned for his powerful batting and exceptional on-field strategies. He is equally known for his prompt replies and witty remarks during interviews. A recent viral clip of him is proof to this, where he can be seen discussing relationships and offering advice in an engaging and unique manner. In the video, Mahi can be seen addressing a gathering and sharing some valuable relationship insights specially for bachelors. During his interaction, he debunks a major relationship misconceptions.
He humorously said, " Bachelors, jinki girlfriend hai unka ek misconception hota hai jo ki main clear karna chahunga by ending this answer, Yeh mat sochna ki meri wali alag hai (Bachelors, who have girlfriends, I would like to clear a very common misconception by ending this answer. Don't think that my girl is different)".
Watch the video here
These candid remarks from Mahi instantly resonated with the crowd, leaving them laughing cheering, and clapping.
However, when Dhoni was unmarried, his name was linked to several women, including some Bollywood actresses. Contrary to all the rumours, he tied the knot with Sakshi in 2010.
The video was shared on Twitter by a user named Raghu and Since being uploaded, it has gone viral like a wildfire. the clip has garnered over 219K views and received 39.000 likes.  The clip has also prompted netizens to express their thoughts in the comments section.
Here are some interesting comments
"First he tells youngsters to get married and then he explains why they should think twice," commented an 'X' user.
"bro's watching too much memes lately," commented the second user.
"Dhoni literally finishes best," said the third user.
"Mahi bhai has Experience in every field," said the fourth.
"It applies to married ones also only differnce is ye sochna sabki same hi hoti hai…ye mat sochna saamne wale ki alag hai," said a user.
"Ultimate life myntra by legend," commented a user.
"Finishing the answer in his style!," said another user.