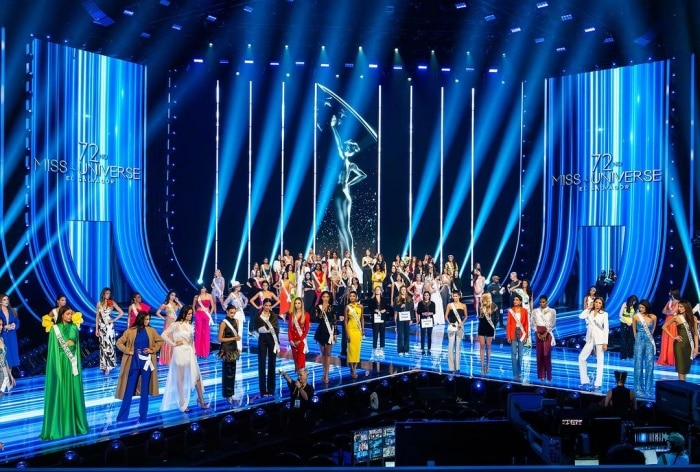 Miss Universe 2023 stage is all set to crown its next queen. But, this year it is going to make history and here is how.
Miss Universe 2023: The green rooms are abuzz with chaos, costumes are in places, and girls are getting prepped up for a glitzy and glam affair. Miss Universe 2023 is all set to crown its next queen. Beauty pageants have always entailed conversations about pressurising beauty standards, and exclusivity and how they may promote the wrong idea of what it means to be beautiful. But, this year the pageant is not going to be just another competition. This time, it will be historic, this time it will be more inclusive.
For the first time in history, the pageant will see mothers, married women, transgender and a plus size model walking the ramp and making their place.
The competition will take place in El Salvador with contestants hailing from 90 countries in the race. Like every year's tradition current Miss Universe R'Bonney Gabriel will pass on the majestic jewelled crown to the winner of 2023. The pageantry has holds several many rounds, including contestants walking ramps in swimwear, evening gowns, national costume round, and other glamorous attire while giving personal interviews and answering questions asked by the jury.
What Makes This Year's Miss Universe 2023 Unique
Breaking beauty stereotypes and gender norma, for the first time ever, the pageantry will be more inclusive than ever.
No Age Limit: This year, the organisers did away with the age limit. Michelle Cohn from Guatemala and Camila Avella Montanez from Columbia are mothers participating in the contest. It is the first time that the Miss Universe pageant has opened its ramp for women who have embraced motherhood.
Transgender Contestants: In a bid to make it more inclusive and equal, Marina Machete from Portugal and Valerie Kolle from the Netherlands are trans women who will be competing in the finals. This is the first time that people from the LGBTQIA community are representing their country in this annual global pageantry.
Plus Size Model: Miss Nepal, Jane Dipika Garrett, is the first plus-size model to walk the ramp of the annual beauty pageant. She endorses body positivity and is already making history with her participation.
Pakistan Makes Debut: The 72nd Miss Universe will carve several records this year. Erica Robins is the first woman ever to be crowned Miss Universe Pakistan 2023.
Miss Universe 2023: When and Where to Watch in India
In India, the viewers will be able to catch the competition live on Miss Universe's YouTube channel and X account starting at 6:30 am on November 19, as per Indian Standard Time. This year Shweta Shard from Chandigarh is representing India at the prestigious beauty pageant.