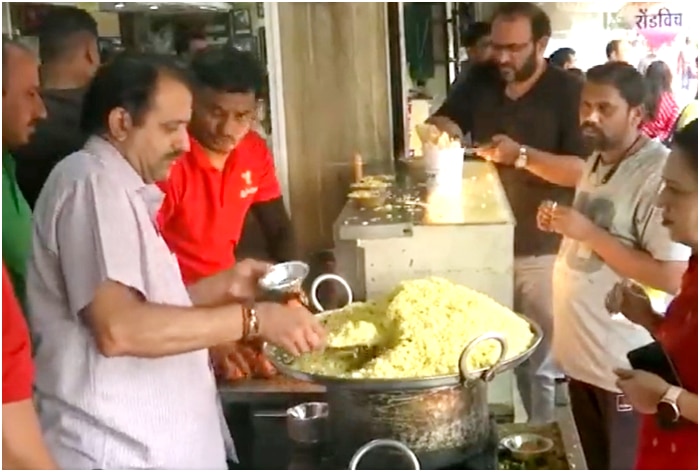 Madhya Pradesh Assembly Elections: Free Poha distributed to people in Indore who voted before 9 am in Indore today.
Indore: Amid the ongoing voting in Madhya Pradesh, a sweet shop in Indore has devised a plan to uplift the spirits of voters. Madhuram Sweets shop distributed delicious Poha and Jalebi to people who displayed their inked finger at the shop. According to Shyam Sharma, the owner of the shop, his establishment distributed Poha and Jalebi to voters from 6 am to 9:30 am. "I believe that 100% voting will take place. With this sentiment, we have made arrangements for Poha and Jalebi for the public from 6 am to 9:30 am. Everybody displayed ink on their fingers… They performed their duties well," Shyam Sharma said.
Watch Here
With over 5 crore voters in the state set to choose their favourite candidates, these Assembly elections hold significance as they precede the crucial Lok Sabha elections scheduled for next year. Today, the fate of more than 2,500 candidates will be sealed today as the incumbent saffron party and the grand old party showcase a fierce fight.
The major battle in the state includes BJP's major leaders such as Shivraj Singh Chouhan, current chief minister of the state, from Budhni, Prahlad Singh Patel in Narsinghpur, former Union Minister Narendra Singh Tomar from Dimni, Faggan Singh Kulaste in Niwas, and Congress's senior leader and former Chief Minister Kamal Nath in Chhindwara.
The saffron party's general secretary and major player in the state elections, Kailash Vijaywargiya is contesting from Indore-1.
Notably, the grand old party's veteran leader Digvijaya Singh's son Jaivardhan Singh is contesting from the Raghogarh seat, while Dr Govind Singh is in the Lahar constituency.
BJP Manifesto:
The BJP manifesto pledged noteworthy commitments, such as providing free education for girls, offering subsidized LPG cylinders at Rs 450, backing farmers, ensuring homes for all, and implementing developmental initiatives, including the construction of six expressways.
Congress Aims To Regain Power
The grand old party has its entire focus to take back its lost ground with promising to address major issues such as unemployment and corruption. Its promises include Rs 25 lakh health insurance coverage for people of the state, OBCs' 27 percent, along with the of an IPL team for the state.
High Profile Rallies
Out of the 230 assembly seats, 47 are designated for Scheduled Tribes, and 35 for Scheduled Castes. As per the Chief Electoral Officer, the state has established a total of 64,626 polling stations for the election involving 2,533 candidates, comprising 2,280 males, 252 females, and one individual identifying as a third gender.
Polling in the majority of constituencies is scheduled to commence at 7 am and conclude at 6 pm. In areas affected by Naxal activities, the voting period is specified from 7 am to 3 pm.
The process of counting votes is slated to take place on December 3.