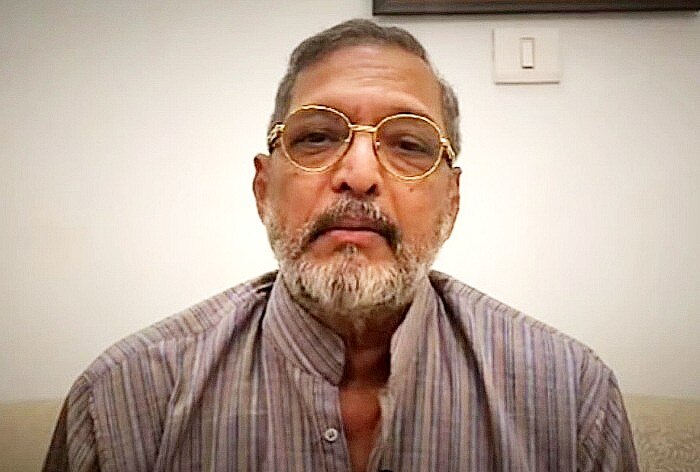 A video earlier went viral in which Nana Patekar was seen hitting a boy on head who tried to take a selfie with him. The actor has now released a video statement in the case. Check this out.
Varanasi: A day after a video went viral showing Nana Patekar slapping a fan, the actor took to social media to come clean. The veteran actor released a video statement in which he explained how he was meant to hit a person from the crew as part of a scene but mistakenly hit someone who was not from the sets. Nana's statement comes after the hell broke loose following the video that featured him hitting a boy's head when he tried to take a selfie with the actor.
Nana Patekar's Full Statement on Slapping a Fan
In his video statement shared on Instagram, the Welcome star said he never says no to any fan for a picture and this was just one of those moments which went wrong. Nana apologised for his actions and called it all a misunderstanding. He said in the video: "A video is going viral where I have hit a boy. Though this sequence is a part of our film, we had one rehearsal. We were scheduled to have a second rehearsal. The director told me to begin. We were about to begin when the boy in the video came in. I didn't know who he was. I thought he was one of our crew so I slapped him as per the scene and I told him to leave (sic)."
Nana went on to reveal that he tried to get in touch with the boy later but couldn't see him anywhere. He said, "Later, I came to know that he was not a part of the crew. So, I was going to call him back but he ran away. Maybe his friend shot the video. I have never said no to anybody for a photo. I don't do this…This happened by mistake…If there is some misunderstanding, please forgive me…I will never do anything like this (sic)."
Earlier, director Anil Sharma talked about the same incident and outrightly denied Nana hitting anybody during the shoot. He said what the actor did was a part of the scene that they were shooting in Varanasi and people didn't need to blow this out of proportion. "Nana has not hit anyone, rather that is a shot from my film. We were filming it on the road in the middle of Banaras, where a boy who comes near Nana has to be hit on the head. Shooting was going on and Nana also hit him (sic)," he told Aaj Tak.
These are two different stories and we wonder what the fans want to believe! As is, it's a rare thing to see an actor publicly apologising for his mistake. What do you think?